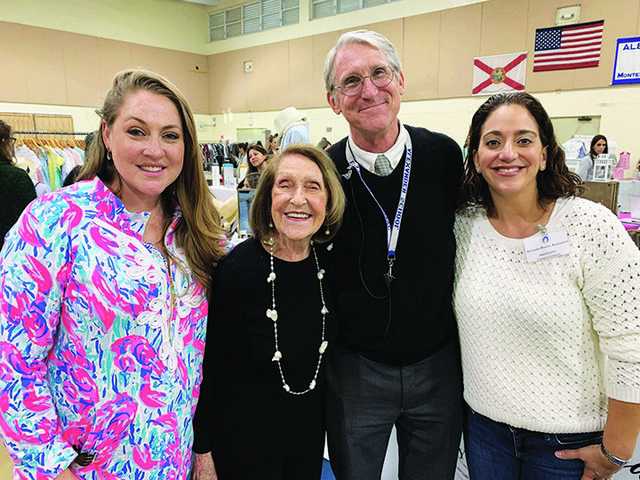 Sure, there is Amazon, the mall and a million other stores out there for holiday shopping, but if you want something unique that supports our local community and economy, you should add the Alexander Montessori School (Palmetto Bay campus) Holiday Bazaar to your patronage list.
On November 28th, the Alexander Parents Association brought back the Holiday Bazaar after a five-year hiatus due to great popular demand. President Carmen Contarini and Treasurer Ainsley Hetenyi proudly greeted people at the door to shop among 30 unique and vetted vendors.
"Holiday items made by small businesses are going by the wayside and therefore supporting our local artisan is important so we don't lose unique items and our sense of local community," explained Hetenyi. "If you want rare and specialized things, you need to patronize those that make them. This is what the Holiday Bazaar helps us do, bring people together."
Alexander Montessori mother (of two) Silvia Buraglia owns BLOP, a business that makes personalized bags. She bought a table at the Bazaar. "Things have been good. Besides supporting the Alexander community, I'm getting to know the other moms," explained Buraglia. "I've made a few dollars today, but it is more about promoting my brand and getting to be known."
Besides the shopping, there were sponsored events like Coffee & Tea with Mrs. Beverley McGhee (the school owner brought her own silver serving pieces from home), morning mimosas, a Wells Fargo speech on college savings, a Lunchology-sponsored discussion on how to get kids to eat healthy and Headmaster Joyce McGhee gave a lesson on motivating your kids to read.
If you wrote a book on Miami history, one chapter could easily be dedicated to the Alexander Montessori School. Started by Beverley Alexander McGhee in 1963 as a response to her husband who believed her place was at home being a mother. Before having kids, Beverley had taught in the Dade County public school system desperately wanted to be able to be with her kids and continue to teach. As it turned out, she got to do both. Her sons James and Alexander were her first students. And the rest is history.
"I applaud the Parents Association for putting this together," said Beverley. "It's a great service to our community and friends."
As part of the deal, each vendor from the Holiday Bazaar donated one item for the silent auction that will take place during the school's April Gala. The Gala celebrates two important dates: the 55th anniversary of the school and Beverley Alexander McGhee 90th birthday.
Real Estate Update
As of November 30 the Pinecrest market is heading back toward a buyer's market bias. Homes listed over $1M are at 15 months of inventory. A healthy $1M+ market has 6-9 months of supply. If you're ready to move, let me assist you with local expertise, realistic expectations and solid guidance to get you to wherever 'next' is. It's easy to get started at miamihal.com/myvalue.
Hal Feldman (MiamiHal) is a Realtor with RE/MAX Advance Realty. You can contact him with your story ideas or real estate questions at www.MiamiHal.com, Hal@MiamiHal.com or www.facebook.com/MiamiHal.