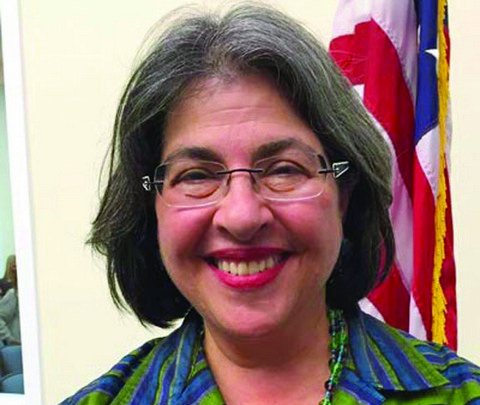 Daniella Levine Cava was sworn in as Miami-Dade County District 8 Commissioner on Nov. 18 and immediately started voting and working some very long days.
"I'm very excited to serve because I care so much about our county," she said. "I think our district has such great potential, so many wonderful opportunities and assets, but it also has huge challenges. I've been very involved civically for many years, so stepping inside government and being able to take some responsibility for positive change is an amazing opportunity."
After only a short time in office it is clear that Levine Cava is getting to work as quickly as possible.
"My job is to learn about many things very rapidly. My district includes Palmetto Bay, Cutler Bay, Homestead and unincorporated areas — including Redland, Falls, Princeton, Naranja, Leisure City and parts of West Kendall — so I will meet often with area leaders, governments and key people to understand their needs."
To that end, Levine Cava knows she can't do it all, so she is hiring a strong staff to make sure her office is responsive to all areas.
"They'll feed things back to me and represent my office when I have overlapping engagements," she said. "Two staffers will be dedicated to civic engagement and one will work solely connecting with non-profits and businesses. Still others will round out my team. This investment will ensure we have a strong presence wherever we are needed."
Levine Cava soon will be transitioning her headquarters to the South Dade Government Center where the District 8 office was four years ago.
"This is more centric, making us more accessible to more constituents," she said. "We also plan to partner with several areas to have satellite offices."
So how does she want be perceived? "It is my hope that people will see me as open and available, dedicated and passionate. I think of myself as an advocate for South Dade and I believe I have an opportunity to address many unmet needs and further key goals in our County. I call South Dade the last frontier and what I mean by that is that I think we have great opportunities to grow — grow jobs, our economy, transportation options, social services and more, while still protecting our existing quality of life. I plan to do just that."
Her main platform is 'Restore Trust In Government'. You can learn more at www.miamidade.gov/district08.
A SERIOUS MOMENT
In every issue, I write about the positive and goodness in South Florida. Now I'm compelled to soapbox a bit.
My parents recently had their car professionally driven from up north to my house so they could use it while snow birding. They hired a man who has done this type of work for 17 years with a perfect track record. He also happens to be black. Ten hours ahead of schedule, the driver arrived at my residential block around midnight. So, not wanting to awaken us, he decided to park in what he thought was our driveway and sleep until morning. Unfortunately, he had parked about four doors away. Around 4 a.m., the homeowner woke up the sleeping, well-dressed, senior driver by rapping on the window with a Glock pistol and forced him to "eat dirt" at gunpoint while they interrogated and humiliated him.
After seeing documentation that proved the intended delivery, the homeowner still refused to take the gun away, often even saying throughout the ordeal, "I should just shoot you." Eventually, the homeowner used the driver's cell phone to call my phone number and inquire about the situation. Once I realized what was happening, I told him the driver was legitimate and that I would meet them as soon as possible. While getting dressed, I called the police for backup. When a gun is drawn, I don't assume anything.
I arrived on scene first, waving my flashlight down the dark street with the homeowner waving back as I walked towards them. Then, the shadows took shape. My parents' car at the edge of the driveway, the driver still being forced to lie on the asphalt with two homeowners standing over him refusing to drop the gun.
Even while I talked things through with the homeowners, they never took the gun off the driver. It was only as the police cars arrived, when the homeowner thought they could be mistaken as a threat, did they drop the gun. Thankfully, everything wound down at that point and no one got hurt. How could a sleeping man at the edge of a driveway in a car that did not belong to the homeowner become a threat and an excuse to point a gun at someone? I am embarrassed and outraged that this occurred in my neighborhood.
We should be better than this! Better about guns in the home, better about calling the police when we feel threatened, better about listening to our neighbors and, dare I say, better about racial stereotyping.
I was always taught not to judge a book by its cover. On that night, the homeowner's pre-judgment was wrong, and potentially deadly. Afew hours after the incident, the driver and I started to carefully review what had occurred. He is an amazing man not to have lost control and to have shaken it off so soon afterwards. I may take longer to recover.
RING IN THE NEW YEAR
Like many of you, I'll be spending December with friends and family. I wish you the best holiday season and look forward to another great year here in the Pinecrest Tribune sharing the best of South Florida with you through my column.
Hal Feldman is a Realtor with RE/MAX Advance Realty. Contact him with your story ideas or real estate questions at www.MiamiHal.com , Hal@MiamiHal.com