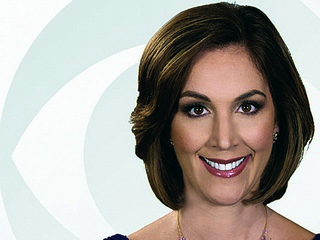 With the tap of her ruby red slippers, second generation Miami native and CBS4 television news anchor Cynthia Demos returned to her hometown of Pinecrest and Palmetto Bay after taking jobs in Panama City Beach and Salem. Much like Dorothy in the Wizard of Oz, her journey back to her beloved city was not an easy one and the route was rigorous, but building a family and working in Miami was her goal.
"I always knew I wanted to pursue broadcast journalism, ever since I was in junior high school," Demos said. "My dad loved Jane Pauley and always had her on the television. I thought, 'Wow! That would be the coolest job ever!' And it all started from there."
During her teens, Demos attended Palmetto Junior and Senior High Schools. She lays claim to being the first WPAW anchor at Palmetto Senior before graduating in 1989. She then took her talents to the University of Florida and graduated in 1993 with a major in broadcast journalism and a minor in math.
"Once I graduated college, I took one of my first jobs reporting in Panama City Beach and within weeks I was held at gunpoint by a crazy lady who wanted to be on television," Demos said. "People always told me this was a tough industry, but I thought this was just ridiculous."
In 2007, Demos finally received the news she was yearning to hear. Her hard work and persistence had landed her a job anchoring the news at CBS4 Miami. She would be reunited with her family and soon start a family of her own.
"My parents still live in Pinecrest, my sister lives in South Miami, my bother-inlaw lives in Coconut Grove and my husband and I live in Palmetto Bay," she said. "It's funny because my family and I have managed to transform this large metropolis into a small town. I worked my whole career to return to Miami because Miami is home."
When she isn't busy being a local celebrity, Demos enjoys singing, wine and food tasting, traveling, raising her children — Brooke, 3, and Gibson, 1 — and contributing to the community. She has hosted events for Baptist Hospital, Jackson Hospital, Miami Children's Hospital, the Coral Gables Chamber of Commerce and, her favorite, the annual Pinecrest Fashion Show.
"As soon as I met Cynthia, while she was still at Palmetto High, I could tell she was going to be successful and an amazing news anchor," said Palmetto High athletics director Yvette McKinney. "Cynthia has always exhibited how excited she is to work and give back to the community. She continues to be a role model in the Pinecrest and Palmetto Bay."
Sidney Sterling is a senior at Palmetto Senior High, a Palmetto Bay resident and an editor for her school newspaper.