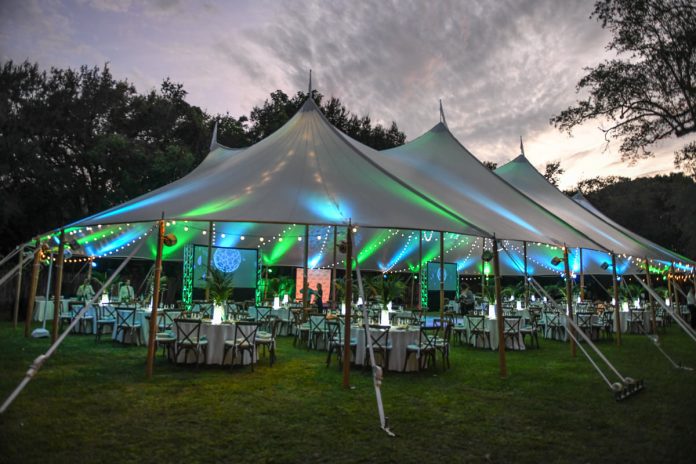 Girl Scouts of Tropical Florida (GSTF) is excited to announce the third annual Campfires to Cocktails at Camp Mahachee in Coral Gables on November 4, 2023. This elevated glamping experience will immerse attendees with a one-of-a-kind night to explore the Girl Scout journey. Guests can customize their evening with indoor and outdoor activities for a holistic perspective of the Girl Scout program – where girls learn, enjoy and create – in the enchanting hardwood hammock of Camp Mahachee. All proceeds will support Girl Scouts of Tropical Florida.
"We've created a memorable experience for all of our supporters, community, and people who want to get to know us better. This event is going to be packed with Girl Scout fun in one of South Florida's true hidden gem locations," said Chelsea Wilkerson, CEO of GSTF.
The exciting evening will feature a DJ and dance floor and cozy lounges amongst the picturesque surroundings and a silent auction. Camp Mahachee's rustic original cabins will be open for attendees to explore curated STEM activities and other Girl Scout experiences. The outdoor activities will include archery, ax throwing, stargazing with telescopes, and more. As no camping or glamping night out is complete without  s'mores and a campfire, guests will get to create their own delicious versions of the iconic toasted marshmallow treats and enjoy Girl Scout cookies.
The Campfires to Cocktails Host Committee Chairs are Tami Blanco, GSTF Board Member, and Erica Rule, Troop 305 member.
Tickets can be purchased starting in September; individual tickets are $250, tables are $1,500. For tickets and more information about partnership opportunities, please visit the event website at https://www.girlscoutsfl.org/campfires  or call  the office at 305-253-4841.
About Girl Scouts of Tropical Florida:
Girl Scouts is the preeminent leadership development organization for girls. We believe in the power of every girl to change the world, and our programs offer each one a chance to practice a lifetime of leadership, adventure, and success. Girl Scouts of Tropical Florida was founded in 1923 and currently serves nearly 3,000 girls in grades K-12 from every zip code across Miami-Dade and Monroe counties. To volunteer, reconnect, donate, or join, visit www.girlscoutsfl.org.