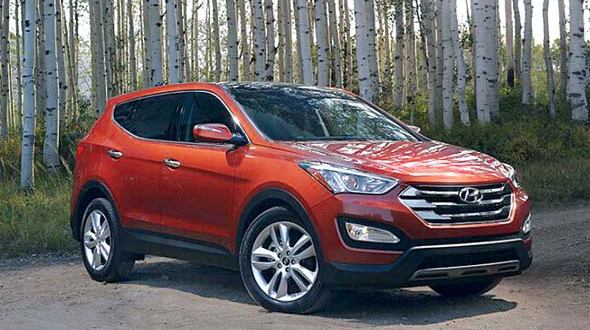 Say goodbye to the Hyundai Vera Cruz SUV and hello to an all-new Hyundai Santa Fe CUV in two distinct sizes and purposes.
Hyundai management recently unveiled the all-new Santa Fe for the automotive media at a gala press conference in the new Montage Resort in upscale Deer Valley, Utah. To say that company brass was glowing with pride about their new baby would be something of an understatement. Big things are expected, and they most likely will be forthcoming.
After driving the Santa Fe Sport — that's the smaller of the two models, the Long Wheelbase (LWB) version was not yet available — I must agree that the Hyundai design team has come up with another winner. The all-new third-generation Santa Fe Sport is a five-passenger crossover vehicle and it's already available in dealer showrooms.
The longer LWB model has three rows, seats seven and will start hitting showrooms in January. By adding the LWB model to the Santa Fe lineup, there no longer was any need for the slow-selling Vera Cruz, so it got the axe from the Hyundai lineup. No big loss there.
The new Santa Fe is designed with Hyundai's "Fluidic Sculpture" concept to create the illusion of constant motion. Up front, there's a three-bar hexagonal chrome grille, LED headlight accents, a low stance, rising beltline, roof spoiler and wraparound taillights. Other design elements include body color mirrors, 19-inch wheels and a twin-tip chrome exhaust on Santa Fe Sport 2.0T.
Both Santa Fe models are capable crossovers built for today's on-the go American family, and they come with flexible seating and cargo space. Both have the same flowing interior look, designed for passenger functionality and comfort, from the heated rear seats and available eightway power driver seat, to a standard 40/20/40 folding rear seat back. Other interior details include an optional panoramic sunroof, which allows more natural light into the cabin, and premium window switch trim.
The Santa Fe Sport delivers excellent performance and much of that is due to a 266- pound weight reduction from the 2012 model, the result of using a lot of high tensile steel in the construction of the vehicle. There's also a good choice of power options available.
Sport buyers may choose between a fourcylinder 2.4-liter 190 hp Gasoline Direct Engine (GDI) engine (22/33 mpg) or a turbocharged four-cylinder 2.0-liter 264 hp GDI engine. Both engines provide excellent power for city or highway driving and they can tow up to 3,500 pounds. The LWB Santa Fe is powered by a 3.3-liter V-6 GDI engine. All engines come standard with Hyundai's six-speed automatic transmission with SHIFTRONIC.
Pricing on the Hyundai Santa Fe Sport starts at $24,450.
Ron Beasley is the automotive editor for Miami's Community Newspapers. He may be contacted by calling 305-662-2277, ext. 261, or by addressing email correspondence to LetsTalkCars@aol.com