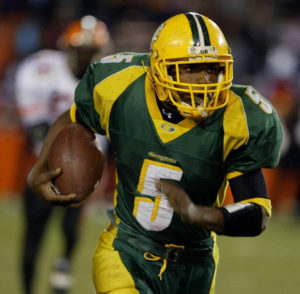 Miami Killian High School running back Bobby Washington carries the ball during a 3-0 loss to Miami Carol City in the Class 6A semifinals in front of approximately 20,000 fans at the Orange Bowl. Washington, who is Miami-Dade County's all time career leading rusher, gained 153 yards in his final high school game. However, he ran into a savage Carol City Chiefs defense led by linebacker Willie Williams, safety Kenny Phillips and defensive lineman Ricky Jean Francois that forced Washington into two costly fumbles. Carol City kicker Ramone Russell supplied the game's only points with a 29 yard field goal. The Chiefs went on to capture the Class 6A state title defeating Orlando's Edgewater High School 13-0 at Ben Hill Griffin Stadium in Gainesville. Photo from the Miami Herald.
In 2003, Killian's Bobby Washington became the all time career leading rusher in Miami-Dade County history with 5,695 yards, breaking the old record held by Frank Gore of Coral Gables. Washington had the advantage of playing four varsity seasons compared to Gore, who played three. Washington was a football prodigy who grew up in Richmond Heights in Southern Miami-Dade County. He started playing youth football for the Richmond Perrine Giants Optimist Club. He was the first player in Miami-Dade County history to be named first team All County all four years. Washington began his prep career at Archbishop Carroll High School, where he started as a 9th grader. Washington then transferred to Killian High School, where he rushed for 2,132 yards and 21 touchdowns his senior year and earned Parade All American honors.
At 6'1 and 200 pounds, Washington had the size and speed recruiters covet. He was often compared to former Hurricane running back Willis McGahee. Rated the nation's second best running back recruit behind Adrian Peterson for the Class of 2004, Washington signed his letter of intent with the University of Miami. However, there were questions about his SAT score. After scoring poorly on his first attempts, Washington scored unusually high on his final attempt. There were even rumors an imposter had taken the test for him. Due to complications with his college entrance test scores, he was refused admission to UM. Washington opted out of his letter of intent and immediately enrolled at North Carolina State to play for former Florida State assistant Chuck Amato. Four of his Killian High teammates were on NC State's roster at the time, including former NFL linebacker Stephen Tulloch. However, Washington struggled to win the starting running back job at NC State. Washington claimed he was treated unfairly by the NC State coaching staff. He transferred to Eastern Kentucky, where he surpassed 1,500 yards rushing as a senior. Washington was undrafted by the NFL. He had tryouts with the Dolphins, Eagles and Rams, but never made an NFL roster.
It has been more than 15 years since Bobby Washington last played football. But his football legacy and dreams continue with his twin sons Robby and Bobby Jr., who were born when Washington was graduating from Killian High. The Washington Twins are both talented players who are currently seniors at Miami Palmetto High School and have verbally committed to play for the University of Miami. According to 24/7 Sports, Robby is considered a 4-star prospect as an "athlete", while Bobby Jr. is rated as a 3-star linebacker.