At 87 years old, Carroll Davis is still a work in progress, as he continues to pursue his life's love and passion of art – and even more so today, having overcome a double pulmonary embolism and cheating death in the process.
Perhaps what is keeping him so prolific in his work is that he maintains an incredibly rigorous routine for a man of his years, making the best of life in his studio inside his apartment home in East Ridge at Cutler Bay where he currently resides with his wife, Jacqueline.
Yet after all these years and having lived in so many exotic spots around the globe, Davis recounts that life-changing moment for him when his parents, unsupportive of his dreams and aspirations, wanted him to pursue a law career and put aside his love of painting and art.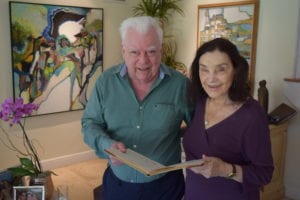 His father was a hard-nosed businessman raised the hard way, born in 1880 Texas. Founder of the nationwide auto parts chain Western Auto (remember Davis Tires?), Davis credits his dad with making a fortune and being a man of the world, yet he could not bring himself to support his son's aspirations as an artist.
Nonetheless, the young Davis persisted.
Today, he believes "The more recognition you can achieve, the better." One of the most recent paintings, from his China series, sold to a wealthy South American collector. He is also proud of the painting he sold to Chase Manhattan Bank years back which remains in their permanent collection. Through exposure here in Miami, he hopes his art will continue to be displayed around the world.
Silver Spoon Childhood
When Davis was eight years old, he and the family left Kansas City, and moved to Miami Beach's posh LaGorce Island. As a result of his father's position in the business world, some of the biggest names in American industry and society at the time were frequent guests in their family home. In fact, it wasn't uncommon to see the likes of Charlie Merrill, founder of Merrill Lynch.
Davis acknowledges that the advantages of attending The Cushman School in Miami and the prestigious Lawrenceville School next to Princeton University prepared him for success at Brown University and University of Miami Law School. He had acquiesced to his parents' desires for him to pursue a "stable" path – but only briefly – by pursuing a law degree. He passed the bar exam in Florida nine months after graduating, leading to an appointment with a big name law firm in Miami Beach, Warren, Klein, & Moore.
But three years and one failed marriage later, he loaded up his station wagon and drove for six days to Mexico to follow his heart and taking his life in a totally new direction. It was here in Mexico he met and married a beautiful French woman, his current wife Jacqueline, became a father, and headed back to Miami.
Although the happy couple bought a home in Coral Gables, it wasn't long before wanderlust set in and he got the calling to move again – this time to France where he immersed himself in the European art scene for two years. This period inspired a series of paintings covering the continent from Paris to Alsace to the Spanish countryside.
His love of his homeland called him home once again, where Davis and his family settled in the area of Miami, now known as Pinecrest. He had seen the world in a way that few artists of his time could. At this point, Davis was painting on the journey to living life and doing what he loves with pure passion.
The Heart of his Production
His art is based on careful observation of the real world combined with a poetic skill of mixing and utilizing a brilliant array of colors. Although Davis has produced works based on his world travels, it is his love of the Florida landscape, which perhaps is the heart of his production. His love of the sea and the beauty and variety of its coastlines is deeply felt by the viewers and collectors alike.
Galleries that have represented him include the Isidora Duncan Gallery in Paris, the Ahda Artzt Gallery in New York, and the Americas Collection in Miami. His works are included in numerous private and corporate collections throughout the U.S. and Europe.
There are two painters this seasoned artist admires most. "I wish I could be as good as they are…" Topping the list is Winslow Homer, a 19th-century American landscape painter best known for his marine subjects, whose art Davis fell in love with at age eight.
The second artist is Andrew Wyeth, one of America's best-known realist painters of the mid-20th century. Davis deeply admires Wyeth's fine paintings, as well as works created by Wyeth's son, Jamie, whom he also sees as a very good artist. He describes, "One of the most poignant was a painting of a teenage girl on the road side looking up at a house on top of the hill. It is so compelling. It just grabs you by the throat."
The Davis Couple at Home
By 1980, the Davis couple eventually built their dream home at SW 136 St. and Old Cutler Road in Palmetto Bay. This is where they finally settled and lived for 35 years before ultimately moving to the East Ridge Retirement Village.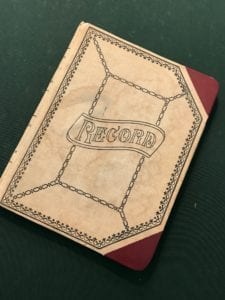 After nearly 400 artworks completed, Davis suffered a serious medical setback, his pulmonary embolism, and was forced to take a four-year hiatus. But he is back now, painting as prolifically as ever. His time off recuperating reinforced the notion that painting is what makes him most happy in life.
"I am painting for myself. For the pleasure and enjoyment I get out of doing it. I would paint if I never sell another painting because I love it."
To find out more about Carroll's art, or to view and acquire a piece, contact his son Marc Davis at marcdavis@keyes.com or call 305-951-5752.