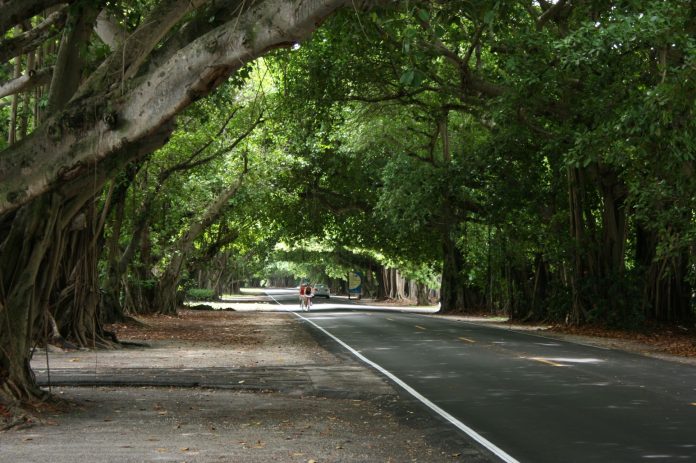 Nobody is trafficking in stereotypes here; Miami is jam-packed with gorgeous thoroughfares. What I'm driving at, in no particular order, is another highway to happiness in these blustery times. 
Most of these roads can be found south of the center of Miami. One long one with more name changes than Diddy is Old Cutler Road. Originally known as the Ingraham Highway, and in sections it still is, Wikipedia and Google can't even decide whether it is 14.9 or 13.5 miles long but it goes beneath a cover of gorgeous banyan trees near its northern end by Cocoplum and continues all the way through Goulds. Driving home on it during rush hour might be the world's best illustration of the idea that there is no pleasure without pain. Ditto on weekend mornings heading north when the rabid spandexed Mafia ignore the bike paths for good reason. That said, passing Matheson, Fairchild, Pinecrest, and Palmetto Bay is as lovely as a ride can get. The homes are special.
Equally beautiful is Coral Way. Established by Coral Gables founder George E. Merrick during the 1920s, the Architecture in the nearby neighborhoods reveals the early-20th Century. Some of the oldest areas contain a mixture of Mission Revival Style architecture and 1920 bungalows, along with the 1930s Art Deco style and humble post-World War II dwellings. Two sections are particularly noteworthy. The commercial section running west from Brickell to Douglas Road had streetcars running between the 20's and 30's and must have looked a bit like St. Charles in New Orleans. Today there is a free trolley that runs as slowly as every other car beneath a thousand banyan trees planted in the stock market crash years. 
Most beautiful of all is the section between Segovia and Red Road. Here the ride is under a tunnel of oak trees running by the historic Merrick House, a landmark on the National Register of Historic Places. This beautiful shady boulevard and its nearby historic district provides the perfect Miami film fantasy location.
Southwest Coconut Grove has a labyrinth of small streets tucked into the neighborhood between LeJeune and Douglas. In particular, La Playa Boulevard runs for a little more than a half mile between Kiaora and Justison before curving into Loquat and Kumquat Avenues. Braganza and Solana are equally impressive, especially on a bicycle. Further northwest, across US1 and Ponce is the Italian Village. Sandwiched between gorgeous Granada and resplendent Riviera are lovely leafy streets near the winter hideaway of lots of manatees. 
SW 118th St. in Pinecrest between Ludlum and SW 60th Ave., Pine Needle, Rock Garden, and Rolling Road Drive are also cute.
To be fair, unbeknownst to our party seeking visitors, there is no shortage of beauty in Miami. Back in the day, families went on enjoyable Sunday drives. Perhaps it's crazy to reimagine pleasure on Miami's roads; nevertheless, naiveté is not a terrible device and way ahead of complaint, cynicism, bitterness, and Instagram. 
I have admittedly scratched the surface. S. Miami Avenue in Brickell, SE 32nd Rd. by Alice Wainwright, the Rickenbacker and Venetian Causeways, Killian Drive – High Pines, Glenvar Heights, and South Miami – all contain feasts for eyes tired of driving, and some of the most beautiful streets in the world.
ABOUT US:
For more Miami community news, look no further than Miami Community Newspapers. This Miami online group of newspapers covers a variety of topics about the local community and beyond. Miami's Community Newspapers offers daily news, online resources, podcasts and other multimedia content to keep readers informed. With topics ranging from local news to community events, Miami's Community Newspapers is the ideal source for staying up to date with the latest news and happenings in the area. Additionally, the newspaper has exclusive Miami community podcasts, providing listeners with an in-depth look into Miami's culture. Whether you're looking for local Miami news, or podcasts about the community, Miami's Community Newspapers has you covered. For more information, be sure to go to www.communitynewspapers.com
#thatscommunitynews #communitynewspapers