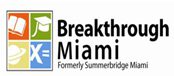 By Sandra Gallaher….

Insurance is no laughing matter, unless you were one of the 10 sixth grade students visiting Morris & Reynolds Insurance on July 7.
The children, students in the Breakthrough Miami program at Palmer Trinity School, sat down with Bob and Juli Reynolds and their team of insurance professionals to talk about education and business, while sharing a few laughs.
Morris & Reynolds team members from accounting, personal and commercial insurance, employee benefits and sales shared stories about their own education, their insurance careers and a range of inspirational experiences that sparked dozens of questions from the children during their Career Day visit. Personal lines manager Rita Schappell, with Morris & Reynolds for 25 years and in the insurance profession for over 40 years, explained to the children that she had been in insurance "since I was about your age." Longtime chief financial officer Maria Tonarely spoke of her own diligent efforts to earn two college degrees as well as the educational journey her own children are currently embarking on as part of the day's focus on the importance of life-long education.
"I am not sure who had more fun, the children or our team members," said Juli Reynolds, Morris & Reynolds executive vice president. "The children were truly fabulous. They arrived dressed for business, were well prepared and studious and had wonderful, bright questions. Their parents, mentors and school should be very proud. We were proud to host them."
Breakthrough Miami is a non-profit educational advancement program founded in 1991 that partners with private schools in Miami-Dade County. The program strives to help children between fourth and 12th grade in under-resourced neighborhoods by offering them a free six-week educational experience that allows access to excellent learning opportunities. The program is very selective and students must be prepared to give up most of their summer vacation in exchange for education.
"Think of it as an academic boot camp of sorts," said Ariel Edwards, site director for Breakthrough Miami at Palmer Trinity.
During their visit students learned about the various jobs in an office like Morris & Reynolds and completed insurance related puzzles and illustrations. After lunch, they toured the office and stopped to pose for photographs with the Morris & Reynolds mascots, two crash-test dummies and a disheveled lizard. Before leaving, the children were given backpacks filled with movie passes and other goodies, and agents and underwriters throughout the office smiled at one another as their squeals of delight echoed down the halls.
"We had a great time with the children, both in introducing them to insurance in fun ways but most importantly in describing the power of education," said Bob Reynolds, president and CEO at Morris & Reynolds. "I hope that we inspired them in some small way because they inspired everyone here that day with their passion, polish and excellent questions. We thank Breakthrough Miami and Palmer Trinity for allowing us the honor of participating in this wonderful event."
The Reynolds family has been in the insurance profession in Miami since 1910 and has operated its independent insurance agency for three generations. Morris & Reynolds offers its clients trusted choices from over 100 of the world's leading insurers for all forms of coverage.
For more information, call 305-238-1000 or go to www.morrisandreynolds.com. To learn more about Breakthrough Miami, call 305-460-8869 or visit www.breakthroughmiami.org.