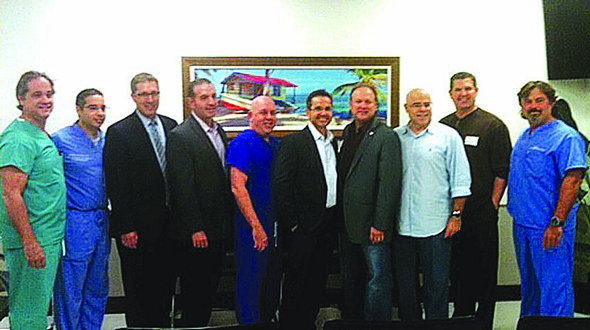 The Miami Surgical Center opened a new state-of-the-art facility in Kendall on Feb. 28 with a ribbon-cutting ceremony attended by physicians, staff and well-wishers. Miami Surgical Center has been in operation since 2003 and the new orthopedic and sports medicine facility, at 7600 SW 87 St., will provide physicians with access to the finest surgical equipment available.
"Efficiency is huge for us as surgeons," said South Miami orthopedic surgeon Dr. Daniel Kalbac, who is team physician for the U.S. Soccer Team and a partner/practitioner at the facility. "At the center, we get the technology that hospitals don't have."
The new 13,000-square-foot center is designed for outpatient and same-day procedures, with six operating rooms and one procedure room. The patient-friendly design of the center ensures optimum efficiency and it is outfitted with the newest surgical equipment from Arthex and the latest instrumentation for hip, shoulder, and distal extremity reconstruction and repair.
The procedure room is outfitted with Nu-Boom surgical imaging equipment.
The Miami Surgical Center is state licensed, Medicare approved and accredited by the Accreditations Association for Ambulatory Health Care. It can service 20-30 patients a day, with potential expansion to handle 40 or more in the future. The center is a partnership with Surgery Partners, a business that manages, develops and acquires ambulatory surgical facilities, with 49 locations in the U.S.
"We are trying to be a solution to the high costs associated with modern health care," said Surgery Partners vice president Ron Zelhof. "By maximizing efficiency we have been able to lower costs and become part of the answer to the question of the availability of effective and affordable healthcare."
Miami Surgical Center provides orthopedic and pain services at costs 40 percent lower than a traditional hospital.
Procedures are minimally invasive and the patient and family are kept informed about the procedure and progress of healing.
In partnership with Arthex Medical Education, the center has established an educational program for International Surgeons. The group will be involved in teaching and training the most advanced and contemporary techniques in orthopedic sports medicine. Physicians primarily from Central and South America will come to the center's 2,500-square-foot learning center to train.
According to Surgery Partners CEO Mike Doyle, the center is five years ahead of most other centers.
"It's like a dream come true for me," said Dr. Kalbac.
For information, call 305-595-2114 or go to www.miamisurgicalcenter.com