On December 10th, after two days of being rained out, Santa still arrived right on time for Palmetto Bay's first annual Downtown Holiday Celebration. Parks Director Fanny Carmona explained.
"A whole lot of people worked real hard several times for this to finally come together, and as you can see it was well worth it," said Carmona. "We have kids and their families enjoying themselves and the holiday spirit is alive."
Nearly 200 people showed up in the Downtown District to enjoy a bazaar-like alley of activities, with food, games, and even an iceless skating rink. Several council members, the Village Manager and staffers could be seen beaming with their successful event all around them.
Watching the kids enjoy the festive occasion, complete with artificial snow falling (from the roof of Village Hall) was a highlight, but as one may expect, Santa stole the show, arriving by fire truck and leading the tree lighting, along with the Mayor.
"This is the start of a wonderful Palmetto Bay family tradition," said Mayor Flinn. "The White House has been doing the National Christmas Tree since 1923, so they have a few years on us, but this really brings a strong sense of community. Tonight has been a blast!"
Just inside Village Hall, Santa sat and listened to kid's wishes for what they wanted for Christmas, while the village-hired All*Star Photographer produced instant prints of the children on Santa's lap.
Of course, the village celebrated more than just Christmas, with a menorah lighting and other activities earlier in the week, making sure they included something for everyone.
New fire rescue station coming soon
On the southeast corner of Old Cutler Road and SW 142 Terrace, a sign of progress has arrived. After many rounds of contentious real estate battles, political soapboxes and other issues, Palmetto Bay Fire Rescue Station 62 is on its way. And while some still don't want it in their backyard, the bottom line is lower response times for life-threatening situations.
According to Palmetto Bay Mayor Eugene Flinn, the (temporary) station will be a fully functional station by spring 2016 and the permanent structure will be built from that point forward.
"Down the road, there will be a ribbon-cutting, but we will have realized the goal of having an advanced life-saving service out on the east end of our village this spring," said Mayor Flinn.
It is Miami-Dade County that financed and placed the station at its current location, with lots of input from Palmetto Bay's government and residents.
"Pinecrest is just as anxious as we are for this station to be operational," explained Flinn. "Pinecrest is also considering forming their own fire rescue services and this will impact them in a significantly positive way."
To underscore the continued tension about the location of the station, I was stopped within a few minutes by two residents asking what I was doing there while simply taking a photo of the 'coming soon' sign. One neighbor, whose name I'll keep off the record, said "I've already had heart attacks, so from that aspect the station is a good thing, but I still think there were better locations."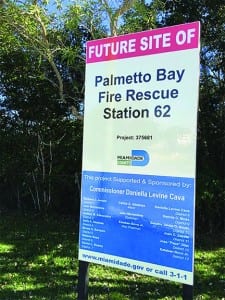 "This has been a long time coming and I continue to hold my breath that we don't suffer anything serious until this station is fully functioning," said Mayor Flinn, "For those who don't like the location, I can only say we had twice gotten it through Congressional approval for the USDA land location. It ended up here instead. But the absolute #1 concern is life safety. We need this station. Period. P-E-R-I-O-D."
Pinecrest Tribune meets Star Wars
It was the red carpet treatment for the Pinecrest Tribune and a few lucky Star Wars fans. Andrew, Judy and Emma Feldman proudly display their hometown newspaper as they head in to see the world premiere of Star Wars in Hollywood on December 15.
Inside the Dolby Theatre packed with stars, I can truly say it was quite a night to remember. After 30+ years, it's great to have the real Star Wars movie magic back!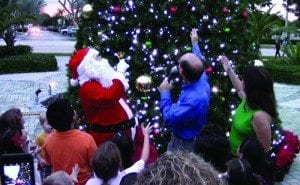 Real Estate Update
The dawn of 2016 is upon us, home prices are in flux and you should know the true value of your home. Go to MiamiHal.com/myValue to receive a free, no obligation home evaluation. Only a neighborhood real estate expert who's seen the inside of your home can give you an accurate value.
Hal Feldman (MiamiHal) is a Realtor with RE/MAX Advance Realty. You can contact him with your story ideas or real estate questions at www.MiamiHal.com, Hal@MiamiHal.com or www.facebook.com/MiamiHal.