---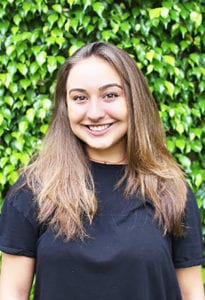 Palmetto High School senior Reese Jackson is developing a community service project to benefit the American Cancer Society and families of people who are battle cancer. "My grandfather passed away from pancreatic cancer last year," Jackson says. "It's a horrible disease that needs all the help we can give to get a cure."
She's planning on organizing a Dance-a-thon that will probably be held at the YMCA later this year. She's shooting for early in the school year. Jackson would like part of the donation from the event to go to research and some to go into transportation help for the families. "I do have people who will become pledges," she says. "We are working on hours and a date. There will be dancers raising money. Whichever dancer raises the most money will get a prize that will be donated." Dancers will pay $10 to enter and then they will be asked to seek pledges to increase the donations.
Earlier this year, Jackson participated in Relay for Life. "Me and my best friend, we were co-captains," she says. "I pulled my friends from Palmetto and she did from New World. And family members as well. We raised $1,000." At their booth, her team sold milk shakes, root beer floats and apple pies from McDonald's that were donated to them for the cause. "We had Mercedes Benz sponsor our team," she says. "They donated hats and made cups for our team."
At school, Jackson is in the National Honor Society and plans to join Psychology Club. "I'm on student council," she says. "I have a senate position – recruitment chair. The Recruitment chair's job is helping new students adjust to life at Palmetto. This is the first year they've established the position." She shares the position with a couple of other students. This is only her second year at Palmetto. Jackson started high school at the New World School of the Arts, where she was in the dance strand. She realized that she didn't want to dance professionally. So, she switched back to her home school, Palmetto. "I still dance outside of school," she says.
The bonus for switching is access to more Advanced Placement course than she would have been able to take at New World. She's enjoying her time at Palmetto. She's attended a lot of school related sporting events, which is why she tried out for cheerleading. Jackson switched from New World to Palmetto too late to try out for last year's squad. "Overall, Palmetto has a lot of school spirit," she says. "At least my class of 2018, we have a lot of school spirit."
While she loves Palmetto, leaving New World was hard, especially since she would no longer see her best friend at school every day. "For me, it was the best decision," she says. "I've made great friends at Palmetto. I went to Southwood middle school, in the dance magnet. Going to Palmetto, I got in touch with them. They helped me adjust." Later this fall, she plans to apply to Florida State University, the University of Florida, Vanderbilt, the University of North Carolina at Chapel Hill, New York University, the University of Virginia, the University of Pennsylvania, Duke, Boston University, and Boston College.
"I do have Florida Pre-Paid, so it's most likely I will stay in Florida." She sees her future being in the business world. "I'm considering marketing and possibly management," she says.
---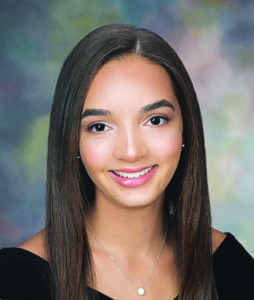 Westminster Christian School senior Sidney Kissane is the chair of the school's Community Service, Clubs and Organizations committee. She's been researching service projects for her fellow students since July. "I've been organizing service trips for all the high school," she says. "I set up four trips, one for each grade. to a school called Learning Links. We set up a buddy system there. Each student is set up with a student from Westminster." While there they do a variety of activities with the kids with learning disabilities and autism.
"Another event, it started last year, we get the whole school together and we pack meals for hungry children in Miami," she says. "We partner with Christ Fellowship Church." Students pack specific foods into the backpacks which are given to needy children.
"This year we plan on packing about 3,000 backpacks," she says. "Last year we only had the high school involved but this year we are involving the whole school, elementary, middle school and high school." She hopes to be able to pack more backpacks by increasing the number of times they do the event.
Kissane regularly participates in community service, including going on the WCS mission trip to Nicaragua last year. There, students helped build a new home for a family. "For that whole school year, we did different fundraisers to buy supplies for the mission," she says.  While there, the students mixed cement and placed concrete blocks to build the foundation and the house. "We did that for about a week," she says. "We did as much as we could without having experience. We transferred a lot of gravel and sand to make cement. We got to spend a lot of time with the family living in it. It was built for a family of four."
Going to a different country and working under tough conditions can be difficult but Kissane loved it. "It's my favorite thing that I've ever done," she says. She plans to go again in her senior year. "Without question," she says. She's also involved in the club, A Piece of Our Heart for Autism. The club works with the organization Miami is Kind, which employs adults with autism in baking goods for retailers, fairs and farmer's markets. "They come to our school to bake. We bake along with them," Kissane says.
Club members act as assistants to supply the bakers with whatever they need. "About half of the workers are baking and the other half are there preparing packaging," she says. The students usually help with assembling the boxes. Kissane is vice president of Angels in Action. Through that club she goes to the East Ridge Retirement Village to engage with the residents. "We do different crafts with them. We perform songs for them," she says. Not only do the residents look forward to the visits, but Kissane says the students do too.
Kissane is in Thespians and participates in theater competitions at both the district and state level. At school, she takes part in theater productions like this Fall's production of The Addams Family. Last school year she was in The Beverly Hillbillies playing Ms. Hathaway. After that, she will work on writing a musical to be performed in May. This year she's co-editor-in-chief of the school paper, The Warrior. She hopes to establish an on-line newspaper this year.
In addition, Kissane is a member of the National Honor Society, National English Honor Society, Science National Honor Society, Foreign Language National Honor Society, and Mu Alpha Theta.
---
From eighth grade to last year, Miami Palmetto High School senior Sydney Miller packed food for children so they wouldn't go hungry on the weekend or school breaks. All the children who receive the food are on free or reduced lunches. They often don't get enough to eat when school is not in session.
Miller's family created the charity called Blessings in a Backpack with another family. Last year they handed it over to a Girl Scout troop to keep going. "We packed up food at Palmetto Elementary and it is given out to kids at Palmetto Elementary," she says. "We'd raise money for the food."
Her family found out about the Blessing in a Backpack project that had been done in other schools and took action. "People in our own backyard were suffering," she says. "It felt good to be able to do something about helping." Part of her job was to collect volunteers from the high school. Many of the volunteers were from Palmetto High while some came from the middle school.
Initially, they packed bags every month, but later moved to once every couple of months. They assembled approximately 100 bags at a time with cans of soup, granola bars, juice boxes and trail mix. Although the organization's name is Blessings in a Backpack, the food is packed into grocery bags to be able to spend more money on the food instead of the packaging. "We put cereal in and for the holidays we sometimes put in gift cards that we raised money for so they can go to Publix and get a turkey," she says.
Around holidays, she and her brother set up outside a mall to collect donations. They also called on family and friends for donations. Miller now has more time for her special role at school. She dresses up in the Panther costume as the school mascot. "I go out every time there is a pep rally or school events, and sporting events such as the Homecoming game, the Blue and White Game," she says. "We try to go to everyone's special games." She auditioned with a friend to be the mascot. "We decided it would be a fun activity and they picked us," she says. They'd trade off on putting on the suit, but now her friend has graduated. "I think they are going to audition for a new mascot as well as me," she says.
To be a good mascot, the person wearing the suit needs to project an image, just like Miller projects an image as an actor in school productions. "I have been to district competition and statewide competition and won a critics choice for small musical," she says. "We went to states for that piece."
At the state level, the small musical performance received superiors. Miller played Little Red Riding Hood's grandmother in Into the Woods, and she was the foreign spy Boris in Chitty Chitty Bang Bang. She's the public relations chair for Student Council and a member of the Psychology Club. "My mom is a psychologist," she says. "I had her go speak to the program." Outside of school, Miller is involved in BBYO, a Jewish youth group that meets at the Dave and Mary Alper Jewish Community Center. She's currently treasurer and public relations chair. She's already been vice president and president.
Miller plans to stay in-state for college – she's applying to the University of Florida, Florida State or the University of Central Florida and will major in psychology.