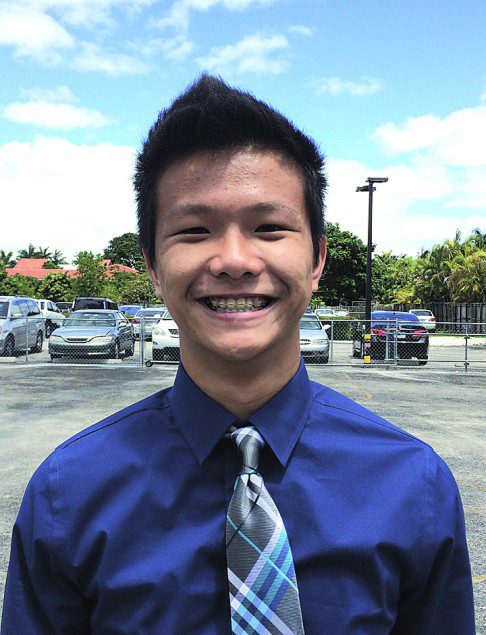 On Sundays, Matthew Tsang plays guitar at his church, the Chinese Baptist Church of Miami.
"Sometimes we have special music events, but mostly I play on Sundays for service," he says. "I've been playing for a couple years now. In 10th grade, I started playing for service."
Tsang is part of the church youth group.
"We usually organize activities. We have things for church and things for the community," Tsang says. "We have events like Vacation Bible School. We have an alternative Halloween night. Instead of kids going out trick or treating, we have them come to church and we have activities for them."
Outside of church, Tsang and a group of friends from church get together occasionally and go out to help the homeless.
"We went to South Beach, there usually are homeless people in South Beach. We went to Goodwill and bought some clothes and gave them out and talked to them a little. It's just something we do on our own."
The friends use their own money to buy the clothes. Tsang says they probably spent $20 each and bought long sleeved shirts and pants because it was winter. They made sure they bought clothes that could fit men who were big and tall, not just small men.
Now a senior at Palmetto High School, Tsang is in the National Honor Society, Key Club and Students Helping Achieve Philanthropic Excellence (SHAPE).
"I'm most active, and most dedicated to SHAPE," he says. "What we do is fund raise. The money we earn, we give it to something in the community or in the school. If the music department needs more instruments, that year we would dedicate the money to the music department."
While SHAPE is a newer club at Palmetto, Tsang says the organization is widespread nationally.
"One of my friends told me about it in my freshman year," Tsang says. "I was only in two clubs at the time. He told me to come join SHAPE, it's cool."
One of the things that Tsang likes about the organization is that the money raised is not used for the club, but to help others.
"It's a selfless act," he says. This year, SHAPE members participated in Relay for Life. "We stay overnight and we have a memorial service," he says. "The rest of the day is all fun and games. We had a country theme this year and SHAPE represented Jamaica. We had a tent with Jamaican food and prizes. At the end we saw who raised the most money."
At school, the club sold pastelitos at $2 apiece to raise the money. Tsang says the treats were popular.
Now that he's a senior, Tsang is considering his future and college. Although his family is from Hong Kong – they moved to the United States when he was two years old – Tsang expects to remain in the U.S. to attend college.
"I'm thinking of majoring in engineering," he says. "But I just don't know the specific type of engineering."
He has had a taste of what engineering might be like by attending a program at Duke University through the TIP program, which identifies talented students in the seventh grade. He varied what he took in the talented student program, also taking the business program another time.
"I'm also doing something like that at the University of Miami this year," he says.