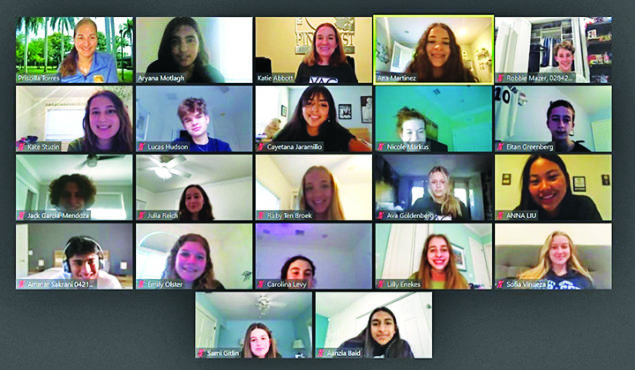 The YAC was recognized by the FLC for its virtual mental health awareness workshops.
Mental health took center stage during the Pinecrest Youth Advisory Council's 2020 -2021 academic year. Cognizant of how the pandemic would affect teens, the group which serves as an advisory council to local government, quickly adapted to the new normal. It began holding its YOUth Series virtually and helped establish a "Mental Health Day" in Pinecrest.
Their commitment didn't go unnoticed. The YAC was recently recognized as a winner of the Florida League of Cities (FLC) Municipal Youth Council Community Service Contest. In total, five Florida student municipal councils won this prestigious award.
"Youth council members are the future leaders of our communities, and if what we saw from these students and their community service projects is any indication, our cities have a strong future ahead of them," said FLC President Tony Ortiz, commissioner for the City of Orlando. "I encourage all of our youth councils to keep up the great work and to continue serving their cities. On behalf of the League, congratulations to this year's contest winners."
The YOUth Series workshops focus on topics that affect teens in the South Florida community. Most recently, the YAC hosted a YOUth Series workshop on hazing awareness in collaboration with the Antonio Tsalias Leadership Foundation – which aims to empower young adults to make safe life choices. With more than 30 participants, the workshop was the culmination of a challenging but successful school year.
Flavia Tomasello, who co-founded Antonio Tsalias Leadership Foundation believes student councils such as the YAC are a bridge between students and the community. Tomasello worked with YAC members and Councilmember Katie Abbott to organize the workshop.
By the end of the hazing workshop, another workshop for parents was scheduled.
"It was great that we had leadership [present] in terms of organizing the program, and we were able to produce another talk within the same day for the parents, which we thought was powerful," said Tomasello.
The YAC was formed in 2009 by former Mayor Cindy Lerner to increase youth advocacy and bring a greater understanding of how local government works to students. Throughout the years, the council — a group of 15 to 20 teens from grades eight to twelve — has taken part in various community service projects. Examples include participating in Relay for Life, Earth Day, and volunteering at the local soup kitchen.
During the transition to virtual everything, the YAC further established its social media presence by having its Instagram account verified. The account at @pinecrestYAC is completely student-run and has more than 400 followers.
YAC member and current Vice-chair Kate Stuzin, 15, worked with Facebook to get the YAC social media account verified after meeting the social media giant's government communications team at an FLC student council conference in October 2019.
"This has allowed the YAC to become a more valid and credible source for information on social media and has drastically increased our audience size," said Stuzin.
Current members of the Pinecrest Student Advisory Council are:
Cayetana Jaramillo, Palmetto High; Sofia Vinueza, Palmetto High; Julia Reich, Our Lady of Lourdes Academy; Ammar Sakrani, Palmetto High; Ana Martinez, Palmetto High; Kate Stuzin, Palmetto High; Nicole Markus, Palmetto High; Robert Mazer, Palmetto High; Jack Garcia-Mendoza, Terra Environmental; Lucas Hudson, Palmetto High; Lilly Enekes, Gulliver Prep; Daniel Solomon, Palmetto High; Ruby Tenbroek, Palmetto High; Samantha Gitlin, Gulliver Prep; Ava Goldenberg, Palmetto High; Manuela Londono, Westminister Christian; Anazia Baid, Palmetto High; Cassandra Pita, Palmetto High; Emily Olster, Palmetto High; Aryana Motlagh, Palmetto High; Carolina Levy, Our Lady of Lourdes Academy; Anna Liu, Palmetto High; Lukas Goldenberg, Palmetto High; Eitan Greenberg, Palmetto Middle.