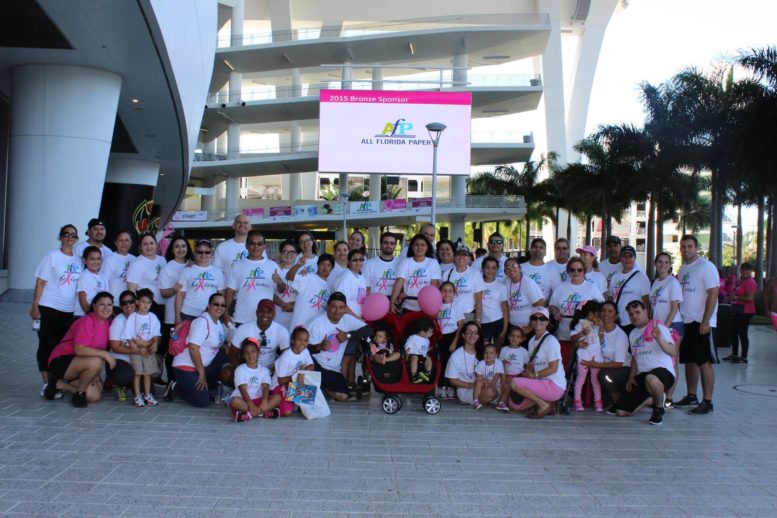 All Florida Paper Founder and CEO Armando Caceres grew up with breast cancer very much a part of the family portrait.
"Breast cancer affects women directly, and it impacts the men in their lives very profoundly," says Caceres, a Pinecrest resident whose mother recently underwent surgery to remove a breast and whose grandmother died from the disease. "In my family, we work together to fight breast cancer. I want the community to know we're here to help too."
For the fifth consecutive year, All Florida Paper, a leading distributor of food-service packaging and janitorial supplies in Florida, will be a participant and gold sponsor of the American Cancer Society's Making Strides Against Breast Cancer on Saturday, Oct. 28, at Marlins Park. The company's staff, plus families and friends, will walk for awareness about breast cancer, a disease that has affected four All Florida Paper employees and many of their family members.
The event, now in its 25th year, raises thousands for research, treatment, and education and prevention. Last year, more than 35,000 walkers in the Miami and Fort Lauderdale events helped raise more than $1.4 million.
It's a pipeline of support that didn't exist when Caceres' grandmother was diagnosed. As a young man in his 20s, Caceres took charge of his grandmother's health, finding her a doctor and taking her to chemotherapy treatments.
"She was able to enjoy years in remission and was able to attend the weddings of her two grandchildren, as well as see the birth of her great-grandchild," says All Florida Paper Vice President and Co-Founder Marisel Caceres, of Pinecrest. "She passed away when her cancer came back."
At Making Strides Against Breast Cancer, All Florida Paper will celebrate the survivorship of those close to their hearts and pay a meaningful tribute to the many whom have lost their lives to the disease. While remission is more likely today than when Caceres' grandmother was diagnosed, many women will still be affected. In 2017, an estimated 252,710 women in the United States will be diagnosed with breast cancer and 40,610 will die from the disease, according to the American Cancer Society.
"At All Florida Paper, the fight against breast cancer is personal. We realize it's personal to our employees and to many in our community," says Armando Caceres. "We're in for the cure."
About All Florida Paper
All Florida Paper (AFP) is a leading privately held distributor of food-service packaging and janitorial supplies in Florida. Its mission is to make its customers' packaging and chemical product needs a seamless part of their operations, and to save them time and money through innovative products, superb service, competitive pricing and transparency. With more than 7,000 products, AFP services the following industries: food service, grocery, education, hospitality, healthcare, building service contractors, redistribution and export. Exporting capabilities extend to the Caribbean and Central and South America. Cuban immigrants Armando and Marisel Caceres founded the company in 1993. All Florida Paper's impressive story is the epitome of the American dream. Read their story at AllFloridaPaper.com.

Connect