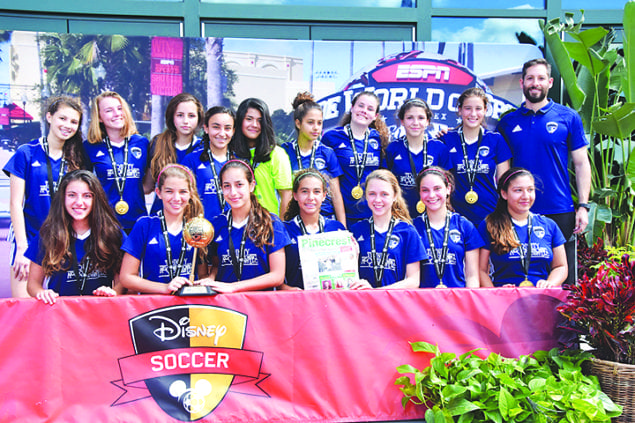 The Pinecrest Premier 2003 U15 White Team Coached by Ramiro Vengoechea brought home the Gold by capturing the Division 1 Gold Championship with a 2-1 win in the finals of the 2018 Disney President's Day Soccer Festival over Excalibur SC 2003 from Cleveland Ohio. The team went undefeated through the tournament and was led by a staunch defense anchored by goalie Megan Gutierrez.
Elizabeth Garcia scored the winning goal off a direct kick from 25 yards out. The team is pictured as follows: Front row (l-r): Paolina Salas, Teresa Somoza, Patty Garcia-Saladrigas, Emma Diaz, Madison Munroe, Valentina Wolff, Krystal Martinez. Back row (l-r): Mia Calderon, Mia Wells, Bianca Perez, Sophia Salgueiro, Megan Gutierrez, Paloma Gaitan, Katelyn Hartnett, Sophie Gonzalez, Elizabeth Garcia, Coach Ramiro Vengoechea.
Congratulations on winning the gold, and thanks for taking your favorite newspaper along!