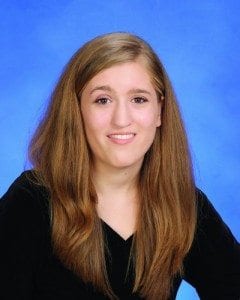 Senior Tiffany Felcoski is Gulliver Prep's nominee for Silver Knight in the Business category. She's active in DECA, the business club. As a member, she's participated in the DECA competitions making it to the state level and she qualified for the international level.
Closer to home, Felcoski volunteers at Jack Nicholas Children's Hospital in the Cranial Facial area.
"I was a patient there," she says. "I know the people and I wanted to volunteer with them. They are great."
As an infant, Felcoski had her first surgery to deal with a clef lip and palate deformity.
"I honestly think I had it between three and six months," she says. "I've had 12 surgeries. Some of them were for ear tubes. I had several revisions."
Now that she's almost finished with high school, she believes she is finished with the surgeries. Her experiences led her to volunteer with the doctors who took such good care of her.
"Originally I started the summer before my tenth grade year," she says. "I did a lot of work with patients."
She'd meet parents in the check-in area of the hospital and walk them to the cranial facial area. She'd also take files back and forth, passing them to the different doctors. She'd tell her story if the situation was appropriate and the family was considering surgery.
"If someone has a baby, it's great to see someone who has come a long way," Felcoski says. "A lot of time, when it would come up I would walk them from part of the hospital to another."
Her scars aren't noticeable – you can only see them if you look closely or if you are familiar with her situation.
"Sometimes they have the original surgeries, then they can have revisions," she says. "I was fortunate. It depends on the person. Some people scar more easily. Some people who it shows more. Mine is not super noticeable and I'm a girl and I can wear foundation."
Growing up, she did experience some bullying because of her appearance.
"I did go through a lot of bullying," she says. "At the end of the day, it's part of life and it makes you a stronger person."
At Gulliver, she's the head of G Paws, a club that helps dogs. She's also president of the Operation Smile club.
"I've been a member since ninth grade," Felcoski says. "I found out about the club from my sister. We want to raise awareness. The main part of the club is fund raising for surgeries."
The money goes to funding surgeries in Third World Countries. This fall, Felcoski was able to see the results of the fundraising when she went on a nine-day mission to Paraguay with Operation Smile.
"That was really amazing," she says. "They performed almost 100 surgeries and they screened something like 300 people. I got to watch a lot of surgeries. I played with really cute kids and practiced my horrible Spanish."
Students who go on the missions have to go through training.
"One of our missions is to train the people on hygiene and oral therapy," she says. "We teach about nutrition. One of the biggest issues in Paraguay, they have really bad cavities."
She plans to continue her work with Operation Smiles in college. All the schools she's applied to have a chapter. Felcoski have already been accepted to UCF and USF. She's still waiting to hear from the University of Florida. She's considering a major in marketing or something business related.
Linda Rodriguez Bernfeld