It's time to take a break from the shopping malls and put your holiday mealplanning aside.
Here's a guaranteed cure for the stress of the season. Just load your family, friends and out of town guests in the car and drive them straight to Pinecrest Gardens for a holiday cornucopia of events that appeal to every age. There's something for everyone; festivals, live music, movies and more. There's plenty of free parking and nothing but fresh air where you can enjoy all the festivities in a green and pristine environment void of pushy crowds. And if that's not enough…you'll have your fill of the best entertainment at affordable prices right here at South Florida's Cultural Arts Park.
HOLIDAY CONCERTS
Conchita Espinosa Academy and Conservatory of the Arts Miami Dance Futures presents…
Christmas in the Gardens
Sunday, December 6, 6 p.m.
Join us in a fabulous evening of holiday music and dance featuring young artists from Conchita Espinosa Conservatory of the Arts. The Conchita Espinosa Vocal Ensemble will delight the audience with cherished holiday songs from around the world. Directed by Loly Lopez, the ensemble has performed nationally and internationally. Navidades Flamencas will portray holiday traditions from Spain through dance, choreographed by internationally recognized Spanish dancer and choreographer, Marisol Moreno. The second half of the program will feature The Snowman, an original story ballet choreographed and directed by award-winning choreographer, Danella Bedford. The Snowman is an adaptation of the beloved British story by Raymond Briggs, set to beautiful music to inspire and captivate audiences of all ages.
Tickets are $20 for adults, $15 for seniors and children (12 and under). Tickets available at the gate.
JAZZ
South Motors Jazz presents…
Maria Rivas…
Home for the Holidays
Saturday, December 12, 8 p.m.
"…one of the finest singers on the world stage today, truly a tremendous talent"
— Oscar De Leon
Maria Rivas skillfully combines American and Latin Jazz rhythms with both lively and sentimental music from around the world. She interprets her music in English, Spanish, Italian and Portuguese and performs her own blend of traditional standards.Maria's unique sound is an intoxicating combination of classic American jazz, pop and blues with just the right splash of Latin accents. She has performed to rave reviews before large audiences in North America, Europe (including the prestigious Montreux Jazz Festival) and this month at the Gardens she joins us once again to perform a wonderful holiday concert that is guaranteed to be a crowd pleaser for all. For tickets call 1-877-496-8499 or select-your-seats on line at www.tickets.completeticketsolutions.com/PCG/Online.. For reservations or menu information phone: 305-669-6990.
GREATER MIAMI SYMPHONIC BAND FAMILY HOLIDAY CONCERT
Sunday, December 13, 3 p.m.
Celebrate of the Holiday Season, as we strike up the band! The Greater Miami Symphonic Band will present its annual "Family Holiday Concert" in the Banyan Bowl. The program will include music for Christmas, Hanukkah, and more. The Greater Miami Symphonic Band began in 1979. Since the first rehearsal with fortyfive musicians of diverse backgrounds and musical abilities, the Band has grown to a present membership of approximately eighty-five. This 75-minute concert is family friendly and is recommended for an audience that includes children and adults. So, come listen, enjoy, and get into the holiday spirit. Tickets prices are $15 for adults and $5 for students. You can purchase tickets at the gate.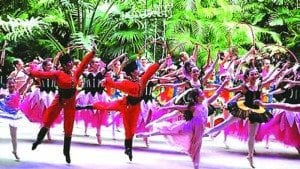 HOLIDAY FESTIVAL
Presented by… FirstBank Florida.
Saturday, December 5, 1 a.m.- 6 p.m.
Our extraordinary Holiday Festival is a day for the whole family to enjoy, where you can indulge in delicious food, take a photo with Santa, sing along with our carolers, enjoy live music, theater and dance and immerse yourself in the holiday spirit! The day features excerpts from The Nutcracker, performances from Miami Children's Theater, Model Train Display, Pictures with Santa, Face Painters, Greater Miami Youth Symphony & Jazz Band, pony rides, midway rides, delicious tasty treats and the lighting of the Holiday Tree (at sundown). General admission is $5, and children under 2, active military with ID and Pinecrest Gardens Members enter free. Parking is free! Overflow parking is available off site at Palmetto High School and Pinecrest Elementary. All-day shuttle service is available to bring you to and from the Gardens free of charge. 2 years old and under enter free.
FAMILY FRIDAY AT THE GARDENS "ELF"
Friday, December 11, 8:00 p.m.
"This is one of those rare Christmas comedies that has a heart, a brain and a wicked sense of humor, and it charms the socks right off the mantelpiece." Roger Ebert, Chicago Sun-Times Elf, featuring a star studded cast led by Will Ferrell is about Buddy, a regular-sized man who was raised as an elf by Santa Claus (Edward Asner). When the news is finally broken to Buddy that he's not a real elf, he decides to head back to his place of birth, New York City, in search of his biological family.
Elf also stars James Caan, Mary Steenburgen, Zooey Deschanel, and Bob Newhart. It's a fabulous time for the entire family including fresh popped popcorn, soft drinks, hot dogs, and other delicious snacks. Flashlight tours begin around 7:15. General admission $5, children under 2 enter free.
HORTICULTURE EDUCATION…
Gardening with Lacey
Growing Vegetables In-Ground and
Raised Beds
December 9, 10:30-11:30 a.m.
Join Pinecrest Gardens Educational Coordinator, Lacey Bray in the Hibiscus Room for a hands-on workshop to learn the tips and tricks of growing vegetables in the home landscape and in raised beds for maximum vegetable production. The workshop is limited to 12 people, so please register for the class early by calling 305-669- 6990! The workshop fee is $10, and refreshments and any necessary materials are included in the price.
GARDENS GALLERY PRESENTS…
Judith Robertson
Dec 9-Jan 11
Opening Reception, Thursday,
December 17, 6-8:00 p.m.
Free to the Public
Judith Robertson's work has been included in annual exhibitions at the New Jersey State Museum of Art, the Newark Museum, and the Fort Lauderdale Museum of Art. Permanent installations of her mixed media sculpture were commissioned for Red Square residences in lower Manhattan (lobby & elevator installations): Capitol Club, Luzern Switzerland (neon installations); and Tribeca's El Teddy's restaurant (glass mosaic awning and architectural sculptures). Robertson quotes "The thematic underpinnings for the work are way-finding, path-making, and how the act of wandering provokes the imagination. Repeated references to flight and a chronic blurring of trail-markers seek to undermine expectations of arrival to a chosen destination. The images depict other-worlds in which the journey is perpetually in flux."
For information visit www.pinecrestgardens.org