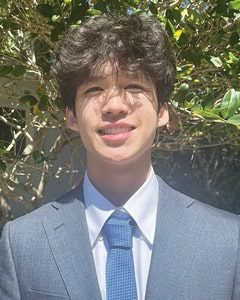 Miami Palmetto High School junior Alastair Page created the Ambassador Initiative to support foreign exchange students and new students coming to Palmetto.
"I started this last year," he says "I co-founded it with my friend Diego Espinosa. Because we were both new to Miami. I moved in seventh grade and he moved in eighth grade. It is a way for these outside people to get to know what Palmetto is like."
At the beginning of the school year, they put up QR codes in the halls so that students could contact them.
"We talked to the registrar, to find out if there are any new foreign students," he says. "The codes are mainly for the freshmen or the transfer students."
This first year, they found about 25 students who needed the ambassador's help.
While most of the work is done at the beginning of the school year, they still have a couple of students asking for things.
The assistance they give the new students includes tips about the community and school.
"We give little Palmetto secrets such as what day the school lunch is better" he says. "We like to think it's better on chicken days. Or which clubs are more active than others."
They recommend the National Honor Society because it's a good way to get involved in volunteer work.
Another club that is active is Model United Nations. It just so happens that Page is the president. His pitch for Model UN is that it's a great place if you like to speak.
Since COVID restrictions were lifted, club members have attended five conferences. They used to run their own event to recruit middle school students but they haven't been able to restart that program yet. They hope to next year.
The Model UN club is doing well. They attended a conference at Florida Atlantic University and took home two first place awards out of three. Page won an Outstanding Delegate Award at the Gator MUN.
Page is a member of the National Honor Society, Mu Alpha Theta, and co-president of the Chinese Honor Society. He takes Chinese as his foreign language and will continue with Advanced Placement Chinese next year.
The Chinese Honor Society members attend Palmetto's Culture Day when all the language clubs set up in the media center and explain what the club is about and do fun games and prizes.
"We recently talked about the Lunar New Year," he says. "This year is the year of the rabbit.
We discussed the traits associated with the rabbit: beauty and peace. We end our meetings with Chinese snacks."
His community service includes his volunteer work at the student-run non-profit, the Pinecrest City Music Project, as a grants researcher.
He plays varsity lacrosse for Palmetto and he's an events organizer for Raise the Arts, an annual dance show at Pinecrest Gardens that raises money for women in India.
The arts are important to him because Page is a ballet dancer. He has danced in the Nutcracker for the Miami Cuban Ballet and danced the leading role in Coppelia for Ballet and Beyond.
He started dancing to support his sister when she began. He kept on dancing even after his sister stopped.
"For now, it's fun and athletic and I help out my community by being able to dance in their productions," he says.
This past summer he did an internship with a judge on the Eleventh Circuit. The internship made him more interested in political science and he's considering going into law or politics in the future.
Linda Rodriguez Bernfeld
ABOUT US:
For more Miami community news, look no further than Miami Community Newspapers. This Miami online group of newspapers covers a variety of topics about the local community and beyond. Miami's Community Newspapers offers daily news, online resources, podcasts and other multimedia content to keep readers informed. With topics ranging from local news to community events, Miami's Community Newspapers is the ideal source for staying up to date with the latest news and happenings in the area. Additionally, the newspaper has exclusive Miami community podcasts, providing listeners with an in-depth look into Miami's culture. Whether you're looking for local Miami news, or podcasts about the community, Miami's Community Newspapers has you covered.