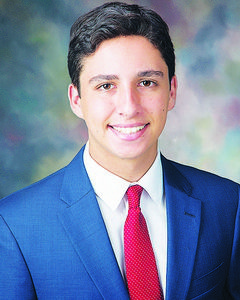 Westminster Christian School senior Daniel Kemmerer has been accepted at Baylor, TCU, Franklin and Marshall, and Sewanee, the University of the South in Tennessee.
Although he's still mulling over his options, at this time he's leaning toward majoring in business.
"TCU and Baylor, both have great business programs," he says.
He's visited all the schools once and planned to visit the University of the South once again in April.
"I want to make sure it's a place where I want to live," he says. "I'm extremely excited for college. Whatever ends up being the choice will be the right choice."
Until a couple of weeks ago he'd been busy playing lacrosse. The team had a good season, but lost in the district playoffs to Coral Shore.
"From where we were at the beginning of the year is a huge improvement and it's fun to be a part of," he says.
At Westminster, he's a member of the Sophia's Hope Club. He says it's an organization to help raise awareness about pediatric cancer.
The organization was founded to honor Sophia Blanco who had pediatric cancer very young and returned when she was older.
"Our friend knew her more personally," he says.
Participating in the club is important to him because he has a classmate who has a brother with cancer.
Kemmerer has volunteered at the Marian School Center, a learning environment for kids with learning disabilities.
"We interact with the kids. We do crafts, arts, we spend the day with them and eat with them," he says.
He also has volunteered with Learning Links, which works with learning disabled teens.
"We go there and do sports with the kids, crafts and we spend the day with them," he says. "They have a basketball court and video games."
The students who volunteer for Learning Links love going there to work with the disabled students.
Summers have him volunteering at the Westminster Summer camp as a counselor. He works with kids who are 10-11 years-old. The children participate in dodge ball, basketball, tug of war, and swimming at the school pool. He plays with them and helps with lunch.
"It's always a lot of fun. By the end of the day, you are exhausted," he says.
Working with the kids has taught him patience.
"It's exhausting, but it's fun," he says. "Things can happen, there can be conflicts. They might want to do something, but it's not time to do that. You have to be patient with them."
With that knowledge comes a new appreciation for his parents and teachers.
His parents taught him well. He'd been a baseball player for much of his life but things happened and he was not on the baseball team for his senior season.
"I have an opportunity to play in college," he says. "I went up there and met with them. It was a good experience.
He finds it helpful to know he can continue to pitch if he wants to. There are times he misses the game, the practices and the people.
"I've really enjoyed my experience. Lacrosse was a new sport for me. My friends played it. It's been a great part of my senior year.
Kemmerer also plays cello in the school orchestra. When everyone was choosing instruments, most wanted to play violin. He sat down and listened and thought the cello sounded the best to him.
Linda Rodriguez Bernfeld