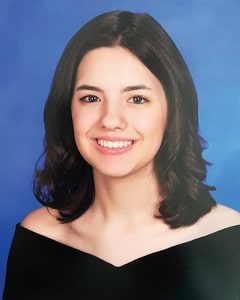 For her Girl Scout Gold Award project, Miami Palmetto High School senior Gabriela Abreu built a website called Rainbow Vision to educate and inform people about the LGBTQ community. She wants it to be a site that anyone can go to who has questions about the LGBTQ community.
For example, the website helps those confused about the difference between pronouns and neo pronouns.
"What they are is another way of gender expression," she says. "Pronouns are a form of gender expression, but they do not equal gender."
Her aim is to help anyone who is confused have one central place to turn to for information.
"I'm pan sexual personally," she says. "When I came out to my mom, she asked me what that meant."
Abreu says she remembers going on Tik Tok and finding videos that talked about different sexualities and she remembers thinking that she wished more people knew.
"I decided it would be nice if there is one website that talks about all of that," she says. "Using umbrella terms."
She started on the project in July or Sept. 2021 with the proposal to the Girl Scout Council. Once approved, she began building the site in January 2022.
"I designed the website myself," she says. "I used a platform that did that for me. I learned coding but not very well."
She researched information that she could use on her site by visiting numerous other websites. They all focused on different areas. Some talked about sexuality and some talked about gender.
"That's why I wanted to make it," she says. "I talk about being unlabeled. There is pressure to label yourself. You are still a part of the community."
The website remains a work in progress. She's been working on expanding the social media aspect of it.
"I'll probably put videos on Tik Tok and Instagram once I expand the social media," she says.
The website took a little longer to make than she hoped because she interned over the summer with a company focused on marketing. She also needed to focus on school at the same time.
"I was trying to do the research, writing the stories about the pronouns and other terms," she says.
One of the hallmarks of Girl Scout Gold Award projects is the need to be ongoing. Abreu has that covered.
"I will be teaching someone else to do it," she says. "Someone else will be updating the website, as the terms will continue to change."
While she did the bulk of the project, Abreu did get some help from her sister and friends.
At school Abreu is the publicist for the Thespian Honor Society. She does programming for the theater shows and merchandising.
"I take the tech class," she says. "I took the theater I class freshman year. I ended up liking tech more."
She took coding at CODE/Art in sixth grade.
"When I was a freshman, I was a teaching assistant to help students learn how to code. In the summer I came back as a marketing intern," she says. "Everyone on the team believes in their message."
She tries to do an activity every month or so.
"In the early part of the year, we were meeting a lot more frequently doing a lot more activity together," she says.
Abreu's college list includes the University of Florida, Bryn Mawr, the University of Edinburgh, and Mount Holyoke. She's hoping to attend a small liberal arts college.
Linda Rodriguez Bernfeld
To see more #Miaminews from #Aventura to #Coralgables to #SouthMiami, #Pinecrest, #Palmetto Bay and #Cutler Bay and all throughout #Miamidadecounty go to:
www.communitynewspapers.com