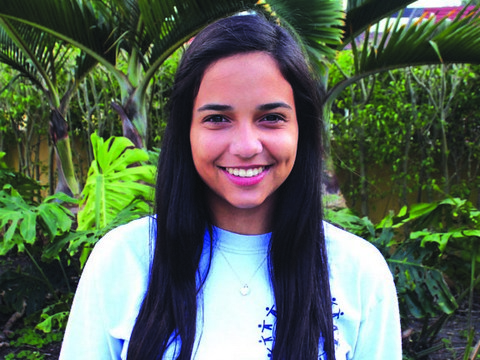 Palmetto High School senior Alyssa Lanzas had a rocky transition from middle school to high school when it came to Advanced Placement World History. That experience made her sensitive to the needs of other students making that transition, so at the end of her sophomore year she approached her ninth grade AP World History teacher and suggested a tutoring session for incoming freshmen to be called Jump Start Intro APWorld History.
The program is scheduled during the summer.
"I do a Power Point and bring in tutors," she says. "They start working on homework before the school year begins. The Jump Start this past summer, we had a little section where they went on the laptops and we showed them how to access the online textbooks. It's not just what to expect, we also show them tools to help them succeed in all parts of the class."
The first year, 40-50 incoming freshmen attended. This year, 50-60 showed up for the tutoring session.
"We were not expecting the number of people we had this year," she says. "We had to bring in desks from other rooms."
There were nine tutors from different grade levels there, including her brother and sister. When school started, the students who needed additional help came in on Fridays for tutoring.
"And on days off, we would come in and have a review session," she says.
Lanzas hopes her sister will take over the program when she goes off to college.
"On Friday she helps the freshmen, so hopefully she will follow in my footsteps," she says.
This year, Lanzas is the president of the Social Science Honor Society. She was vice president of tutoring last year. She is also on student council as the advertising chair and she is a member of the National Honor Society.
Her main activity is being managing editor of the yearbook. As managing editor, she makes sure everyone is working diligently.
"I'm also the marketing head. This is my third year on staff," she says. "Yearbook consumes me."
The staff this year has made changes.
"There are a couple of elements of the year book that the school has never seen before," she says. "Hopefully they will like it. We have a lot to live up to. (Last year's book) got almost a perfect score at the Columbia Scholastic Press Association."
Lanzas says this year's book is looking really good and that the staff has already submitted the first 60 pages.
Last year Lanzas was the design editor for Palmetto's literary magazine supplement, which earned three Golden Circle Awards.
That means it's one of the top three in the country. "That is a huge honor from the Columbia Scholastic Press Association," she says. "It was the first time that one of our literary magazine has received a Golden Circle Award."
The awards were for the cover design, which she created, the spread design, which she had a hand in, and for a poem submitted by a student.
Outside of school, Lanzas dances at Jill Mallory Studio of Dance. She has taken ballet, hip hop, jazz and lyrical.
"It's a thing I like to enjoy. I don't dance competitively, I don't dance at school," she says.
Her college plans include applying for admission to the University of North Carolina, the University of Florida and Wake Forrest. She is trying to decide between journalism and business as her major
"It depends on the school," she says. "I like advertising, but I'm pretty set on journalism."
By Linda Rodriguez Bernfeld