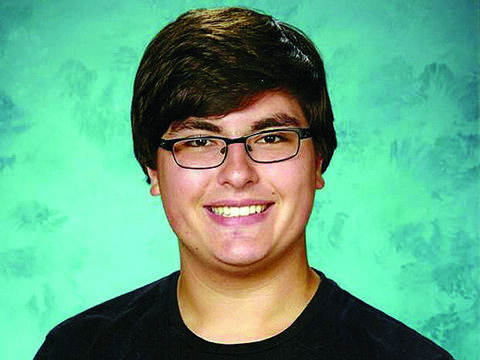 Palmetto High School senior Brett Dembrow expects to have accumulated 950 community service hours by the end of the summer. Dembrow has earned many of the hours by volunteering at the Alexander Montessori Summer Camp where he works with middle school students.
"It's good that I can play sports with them," Dembrow says. "This will be my fourth summer at the camp. I love working there because you can play sports indoors and outdoors. They have a great gym that's air conditioned."
Dembrow became involved with the program thanks to a friend whose mother works there as a teacher.
"I like working with younger kids because you can teach them new things they are not comfortable with," Dembrow says. "It's a good feeling to watch them execute the new skills."
Sports are important to Dembrow. He plays tennis for the Coral Reef Park club team.
"I'm the player-captain of my team at Coral Reef Park," he says.
The team has traveled to Tampa, Daytona, Fort Myers and Orlando for various state tournaments.
"I play through USTA Team tennis," he says. "In some of the tournaments we play, we get ranking points that recruiters can see,"
In college, Dembrow plans to continue playing club tennis.
"I want to focus on my studies," he says. "Even when I'm at school, I want to play because it's a good way to get exercise.
I'm passionate about my tennis. It's a very good hobby."
At Palmetto, he is parliamentarian of Key Club and a member of the National Honor Society. He is also a member of the
Jewish Student Union. Dembrow also was the freshman and junior representative to the Southern Florida board of NCSY at Young Israel in Pinecrest. He has been a volunteer for the USA Special Olympics on tennis events.
"I helped the kids with their serve and their swing," he says. "I tried to create a fun atmosphere for them."
Dembrow also volunteered at the Coral Gables Hispanic Festival helping teach children who wanted to play tennis. He says the new program USTA instituted about five years ago should help attract and keep more kids in the game.
"The children will be raised in a system that will lead to success," he says.
In the past, the players only had one type of ball. But now, there are different ball compressions for each age group that makes the ball easier to hit for the younger players.
"When they are younger and the ball isn't as difficult to get in, they'll learn more strategic elements," he says. "They will be able to actually rally and play a point out."
And, he says, they can now worry about where to put the ball instead of just hitting the ball. "Since the balls have changed there are more kids playing at Coral Reef Park because it's easier to play," Dembrow says. "Also the court size varies with regard to a kid's age. Because they are younger and smaller, it makes it easier for them to get to the ball. It makes the game more available for kids to play."
In just a year, Dembrow will be off to college. He says he is most interested in Florida schools, but he is also applying to a few key out-of-state-schools. He is considering a major in business or finance.
— By Linda Rodriguez Bernfeld