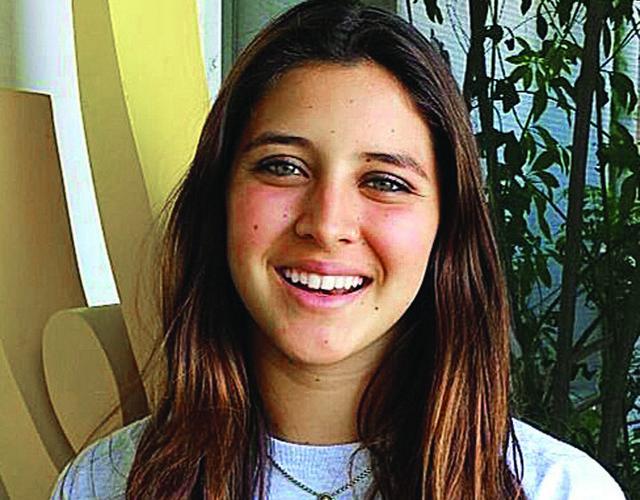 Camilla Bedoya, a senior at Palmetto High School, spends her summers helping autistic children at the Shake-A-Leg Miami Water Sports Academy and Island Adventure Camp in Coconut Grove. She spends the days working one-on-one with a child.
"In the morning, we will take them out in a big motorboat," she says. "They go to the island in Biscayne Bay and stay until 3 p.m. While we are there, we take them kayaking, sailing, fishing and swimming."
Bedoya says they usually have around 60 children on the island, but not all of them are disabled. Over the years, she moved up from being a mentor to a staff member.
"I would work with certain kids who have more problems," she says. "You keep them calm, take them out on the water and take them fishing or whatever activity makes the most of the camp. Some kids don't deal well with others. They have to be alone."
Bedoya is usually matched with the same child whenever possible because it makes the child more comfortable.
"If the child isn't comfortable, then we change the pairing," she says. "
Most recently she has worked with one little girl who is severely autistic. She says the child is not good with noise.
"We have a sandbar around the island and I'll take her to the sandbar so she can calm down to go swimming," she says. "Or we'll go kayaking because she likes to put her hand in the water."
Bedoya works Monday through Friday in the summer at the camp. During the school year, she works for the weekend program that runs from noon to 3 p.m.
"We take them on the water for an hour, or kayaking and sailing," she says. Bedoya became involved because her father is a board member at Shake-A-Leg.
"He encouraged me to join during my freshman year of high school and I have loved it ever since," she says.
Working with the program has taught her many things, including patience.
"You have to learn to calm yourself and find ways to change a situation quickly," she says.
The children can get aggressive when they get upset. And then Bedoya uses the skills she has learned from her years of working at the camp to find a way to calm her charge. Over all, she says, the children like being in the program.
"They love going out on the water all day," she says. "Being on the water calms most of them. The whole idea of Shake-ALeg is to let the kids be normal and let them do things they've never done before."
Bedoya says she hopes to continue to spend summers working at Shake-A-Leg — and possibly even during winter and spring breaks — after she goes off the college.
At Palmetto, Bedoya is a member of LEO, the club that sponsors blood drives on campus, and she is also in Health Occupation Students of America (HOSA). She is also in the business club, DECA. Outside of school, she is a volunteer at Junior League of Miami.
"It's an organization that helps women who have been abused," she says. "We usually have classes to teach them how to cook, and we have painting classes for the children."
Ever since she was in the seventh grade, she has been a volunteer at the Festival of the Poor at St. Louis Catholic Church.
"Usually I operate booths for the games for the children," she says. "Or if there are rides, I'll take the tickets."
As for college, Bedoya is applying for entrance to the University of Florida, Florida State University, Babson University, the University of Central Florida, Boston University and Rollins College. She is considering international business as a major.
By Linda Rodriguez Bernfeld