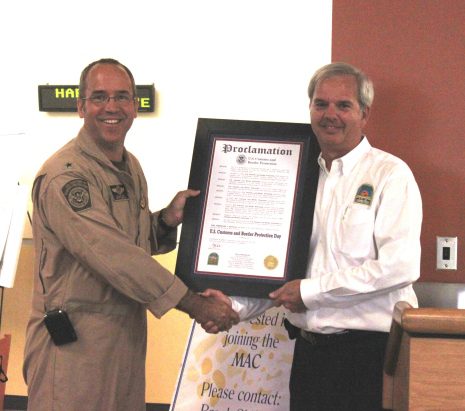 On Friday, June 6, 2014, Homestead Mayor Jeff Porter attended the MAC (Military Affairs Committee) Meet and Greet Event wherein he delivered a proclamation in honor of the exceptional performance and the fervent execution of the duties demonstrated by the U.S. Customs and Border Protection.
As part of the U.S. Department of Homeland Security, the CBP serves as a frontline defender of our boarders that protects against terrorist threats and other egregious violations that can have a detrimental effect on our national security and our economy. With more than 60,000 employees, CBP is one of the world's largest law enforcement organizations and is tasked with keeping terrorists and their weapons out of the U.S. while facilitating lawful international travel and trade.
The men and women of CBP are responsible for enforcing hundreds of U.S. laws and regulations. On a typical day, CBP welcomes nearly 1 million visitors, screens more than 67,000 cargo containers, arrests more than 1,100 individuals and seizes nearly 6 tons of illicit drugs.
"Vigilance, service to country and integrity are the hall marks of the U.S. Customs and Border Protection," said Mayor Porter. "The City of Homestead salutes you on this and every day for your discipline, courage, heroism and dedication to our nation."
Afterwards, the mayor officially proclaimed the 6th day of June 2014 as U.S. Customs and Border Protection Day. The physical proclamation was then awarded to Deputy Director William Avery of the Miami Air and Marine Branch.