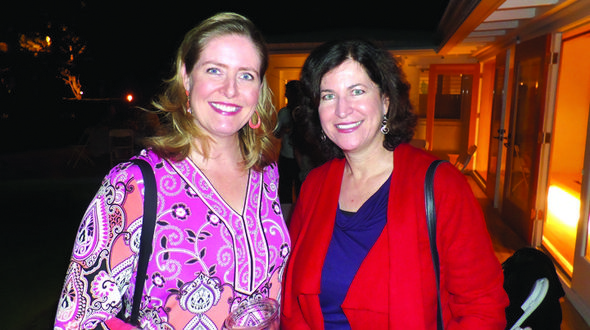 The 31st Annual South Miami Rotary Art Festival just three weeks away. The weekend of Feb. 22-23, Sunset Drive (SW 72nd Street) from US 1 to Red Road (SW 57th Avenue) adjacent to The Shops at Sunset Place will be packed with great arts and crafts, food, entertainment and more. Admission is free admission and there is ample nearby parking on-street and in garages. Look for more than 150 outstanding artists whose works will be on display and for sale, an expanded food court and beer garden as well as jazz onstage. For information, visit info@southmiamiartfest.org.
Casino Night for the GFWC Coral Gables Woman's Club will be held on March 8 at their clubhouse on 1009 East Ponce de Leon Blvd. in Coral Gables. Tickets are only $50 and include great food and entertainment. There will be a cash bar and an opportunity to bid on terrific prizes at the silent auction during the affair. For those interested in getting involved in community service, this is also a perfect opportunity to meet members and support the club's free children dental clinic. For more information on this dynamic group of women and casino night, visit www.coralgableswomansclub.org.
To purchase tickets, you may also call 305 968- 3090. By the way, the Coral Gables Woman's Club welcomes members from South Maimi and any other area who want to serve the community; so, no need to be a Gables resident to join.
Rotarians and friends from around South Florida will be participating in the Annual Rotary Golf Classic for Scholarships on Feb 6, at The Biltmore Golf Course. This annual event is hosted by and for the benefit of scholarship funds of the Miami Dadeland-Pinecrest Rotary Foundation and the Rotary Foundation of Coral Gables. After play and lunch, look above for a helicopter dropping numbered golf balls bought by many for a chance to win some great prizes in the RI District 6990 Golf Ball Drop for the benefit of The Rotary Foundation Annual Fund. It is always fun watching golf balls rain down on the course before measurements are taken and the owners of the balls closet to the holes are determined.
Speaking of Rotary, Coral Gables Rotarian Greg Martin and his wife, eco artist Nancy Martini, opened their Pinecrest home to raise funds for the arts and the Rotary Foundation on January 25. This Martini's at Martinis fundraiser had an interactive art component as well as entertainment provided by some extraordinary talented students from New World School of the Arts: Elis Chirino, Gena Sims, Natalya Pedrouza, Jonathan Feites and Grace Martini.
After partaking in a delicious traditional Greek dinner, guests had an opportunity to bid on some of Nancy Martini's beautifully handcrafter bowls in a silent auction. The Martini's also solicited some volunteer help from Past Rotary Presidents Abe Horowitz, who cooked the lamb, and Sally Baumgartner, who helped with the salad. Among the more than 65 Rotarians and friends attending the evening were several Past Club Presidents including Bill Martinez, Owen Freed, Frank Sexton, Deborah Swain, Keith Phillips, and Gables Rotarian Carol Alexander (PP of S. Miami Club) to mention a few.
Until next time, keep making each day count.
If you would like to submit information for this column, send your news via email to gloriagalburns@aol.com.