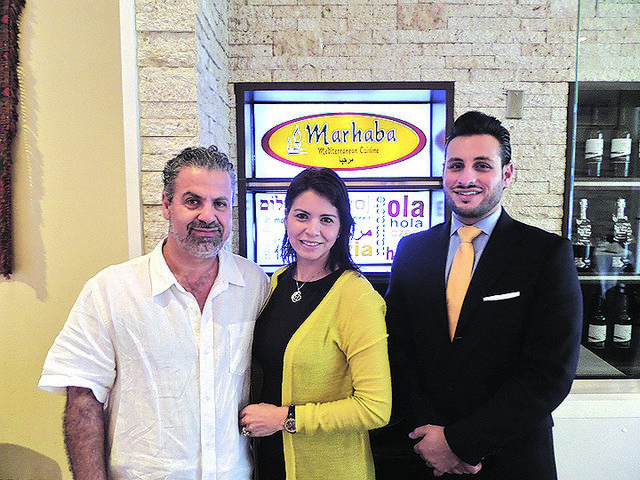 After almost 12 years of serving fine Lebanese fare to the patrons of the Shops at Sunset Place, Marhaba Mediterranean Cuisine has moved — albeit just down the street.
The South Miami family business, which first opened its doors 27 years ago in Dadeland Mall, has relocated to 5861 Sunset Dr. Owners Hussein and Cynthia Lamaa and partner Chris Du' Padrotti assert that, although they are now in a new location, their signature combination of timehonored Levantine victuals, contemporary presentation and comfortable accommodations has remained unchanged.
"Our goal is to create an atmosphere in which customers not only have a wonderful time, but speak about their experience after they leave and bring new people," Du' Padrotti said. "Everything we make here is unique, because the way we prepare our food —from the spices we use to the way we prepare our meats — is completely different than other Mediterranean restaurants."
Named after the Lebanese word for "hello," Mahaba offers a wide variety of beautifully arranged dishes. Classic appetizers like hummus, baba ghanouj, falafel, kibbeh and makdoos serve to whet the palate for delicious entrees such as Bifteik (Lebanese steak), Lahim Mishweh (grilled tender beef cuts with peppers, onions and tomatoes on a skewer) and a variety of lamb, kafta, shrimp, chicken and combination kababs.
Customers would be remiss if they left without trying the signature four-meat Mashawi Special and Kibbeh Nayeh, a raw delicacy which, in terms of preparation and history, is their most lauded menu item.
Events of all sizes and occasions can enjoy this distinctive culinary experience, as the entire menu is available for catering and cooked fresh on-site.
"At Marhaba, we use only the highest quality ingredients and give the right portions," Hussein Lamaa said. "If you go out for fine dining, often times they can serve you the most beautiful dish you've seen in your life, but the portions will be tiny. Our customers get both a beautifully presented plate and great quality in terms of content."
Sports fans looking for an alternative to the usual bars and taverns need look no further. Marhaba gladly hosts viewing events of all types, including pay-per-view, and can show the action unfold on their 120- inch high definition drop-down projection screen. Wi-Fi and Bluetooth compatibility also means that they are ideally suited to host business luncheons requiring PowerPoint presentations.
Hookah accommodations, a staple of the restaurant, will resume shortly after their outdoor seating arrangements put in place and will be of much higher quality than before.
"I'm working on a new technology of hookah that we're very excited about," Du' Padrotti said. "We're looking to unveil that and much more in the months ahead."
Marhaba's commitment to serving the community extends past being a purveyor of fine Middle Eastern gastronomy and hosting events, however; they are active members of their South Miami neighborhood, having taken part in local fundraisers and charity events such as the annual SoMi Fitness toy drive, and plan on joining the South Miami Chamber of Commerce in the near future as well.
"We live in South Miami — our home is right here — and it's a nice, small town," Lamaa said. "We've raised our family here. My kids go to school here. When she was younger, my daughter led the parade here. Our customers and neighbors are more than friends to us; they're family."
For more information, call 305-666-9600 or visit www.marhabainmiami.com.