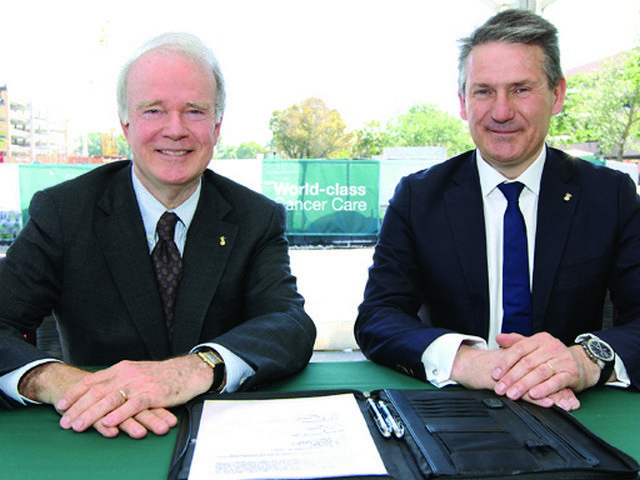 Baptist Health South Florida, South Florida's largest not-for-profit healthcare system, announced Mar. 31 that it has signed an agreement with IBA, the world's leading provider of proton therapy solutions for the treatment of cancer.
The agreement includes the purchase, installation and maintenance of a proton therapy system at Baptist Health's Miami Cancer Institute, currently under construction. Proton therapy is an advanced treatment that beams radiation directly to the tumor to destroy cancer cells while avoiding healthy surrounding tissues.
IBA will equip Miami Cancer Institute with its ProteusPLUS three-gantry room configuration, including next-generation Pencil Beam Scanning capability. The $80 million contract for combined equipment and services, including long-term operations and maintenance supplied by IBA, is part of Baptist Health's $430 million investment in the future of cancer care with its state-of-the-art Miami Cancer Institute.
Miami Cancer Institute, scheduled to open in 2016, will consolidate under one roof outpatient clinical services, a dedicated cancer research facility and signature technology platforms, including the first proton therapy center in South Florida. It is expected to treat its first patient with proton therapy in 2017.
"Proton therapy will provide our team of oncologists another critical tool in the fight against cancer," said Wayne Brackin, COO of Baptist Health South Florida.
"Patients and their families from around the world travel to Miami for our medical expertise. IBA's ProteusPLUS system will bring the latest technology to Miami Cancer Institute, reinforcing our commitment to clinical and service excellence," he added.
"IBA's proton therapy technology has been used to treat more cancer patients than any other company in the world," said Olivier Legrain, CEO of IBA. "This extensive experience and knowledge of proton therapy treatment has allowed IBA to ensure that more patients are able to access this highly accurate form of cancer treatment.
"We are delighted to be enhancing our presence in North America and supporting Baptist Health South Florida's Miami Cancer Institute to advance its vision of bringing proton therapy to more patients in the United States," he added.
Baptist Health is the largest healthcare organization in South Florida, with seven hospitals (Baptist Hospital, Baptist Children's Hospital, Doctors Hospital, Homestead Hospital, Mariners Hospital, South Miami Hospital and West Kendall Baptist Hospital) and more than 30 outpatient and urgent care facilities spanning three counties. For more information, visit www.BaptistHealth.net. More information about IBA can be found at www.iba-worldwide.com.