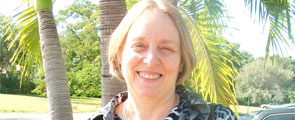 When Sally Philips returned to New York after a holiday in Miami, the images of green and blinding sunshine remained long enough to motivate her and partner Buzz Williams to make South Miami their new home as of 1998. Philips put her PhD in Clinical Psychology to use working for the University of Miami's Employee Assistance Program and retired in 2008. Now she is running for South Miami Commissioner seat group 3.
"We moved a lot as a kid and in my job I always had to maintain a professional distance and did not make a lot of friends. This is the longest I have ever lived in one place and I've found here the kind of people I can really care about. I can go across the street and feed the neighbor's dog or cat. There is so much community involvement here, it's impressive," said Philips.
Commissioner Walter Harris apparently introduced Philips to community life when he recruited her as a volunteer for the 2008 city wide "Eat In." "He pulled me in to help with the garage sale at the community center and people brought stuff in and I set up the whole bay." From there Philips went on to sit on the Planning and Zoning Board and also work with the Budget and Finance Committee.
Philips believes her years working with employees to assist them with personal and professional issues would serve her well as a commissioner. She was also a welfare case worker in the early 1970's, has worked as a Red Cross volunteer and served as President of her Co-Op Board in New York. Philips believes this background would be useful as well.
"I keep getting told I'm smart. I am an executor. I don't have the bright ideas but I can take others' ideas and see how to put them in place. I admire those involved in politics who got elected, their knowledge of the town, and how to keep it running economically. The current administration has been working hard to clean up the mess that was left for them."
On the foremost pressing city issues Philips supports the Murray Pool project, calling it a "done deal." "From what I have seen and read about the contract it looks good. The Murray Pool will be a finished deal by the time the new commission comes in. I believe it is not a campaign issue because it's a done deal."
Regarding annexation of new areas to the city, Philips suggests the issue should be carefully approached and studied to determine costs and support. "I don't see anybody knocking on the door to be annexed. I don't know if people want to be here."
The Madison Square project should be staggered in height according to Philips although she would not specify how high. "I don't want it to be sticking up like a monster but it needs to go up gradually and the maximum height would depend on the design." Philips also believes a good affordable grocery store should become available.
Philips wants a great deal of evaluation and research done in the parks and recreation department. "I am unhappy that they lost a grant to help the kids because the report was not turned in in a timely manner. South Miami should also not be subsidizing the use of our fields for non-residents. We should look for ways to use the land better like renting it out to be more competitive with our neighbors."
Although Philips believes the community is very involved and active in general, when the anemic voter turn-out history was mentioned she did acknowledge the low numbers of participation. "You hear about the apathy of voters and yet there are people in South Miami running for office who have not voted in the past couple of years…600 or 700 voters in an election is a small fraction of the vote."
Philips said she is not a politician and has no interest in moving up the ladder. "South Miami is complicated enough. I believe my presence is non-hostile and non-confrontational. The commission meetings can be very ugly. I have asked myself 'do I really want to do this?' We need to work toward more decorum and lowering the hostility that exists to keep the peace or at least have people talk to each other in a respectful way."
To find out more about Sally Philips visit sallyinsouthmiami.com, call 305-608-2973 or email sallyforsomiami@gmail.com.