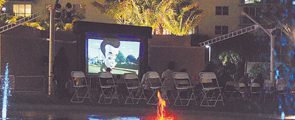 An average movie night visit: Parking- $10, (4) Movie Tickets-$50, Popcorn and Refreshments-another $50, plus. The average family-movie visit to the theater will easily run over $100. Ouch! It's no wonder The City of Sunny Isles Beach's Family Movie Night in the Park; monthly series remains one of the city's most popular recurring events. Another added bonus is, instead of sitting through those 20 minutes of "Coming Attractions", families can enjoy a special treat prior to the scheduled movie. This involves a 25 minute interactive activity that usually encourages the whole family to participate and is related to the feature film.
Take for example, last month's feature "Jimmy Neutron, The Boy Genius" scheduled on February 3rd at Heritage Park and February 4th at Town Center Park. Kids were rushing to the "Jimmy Neutron's Green Slime Laboratory" for the rare chance to make their very own green slime! Scientist, Kyllene Weiss was on hand to show everyone how the concoction was made and before you know it, everyone was an instant scientist. Once completed, we had mini-black lights to make this sticky mess of fun, glow-in-the-dark! Now that's not something you do every day.
So, be sure to join in on the fun with our next and last for the season, Family Movie Night in the Park: Friday, March 2nd, 2012 at Heritage Park (19200 Collins Ave.) and Saturday, March 3rd, 2012 at Town Center Park (17200 Collins Ave.). The next feature film is "Rugrats in Paris". Bring your little mini-chefs in training. We are making delicious dessert crepes made of strawberries, whipped cream, chocolate syrup and more, prior to the movie. The best news, the movie and the activity are all free! So no need to worry about breaking the bank and just bring the whole family!
Both Movie Nights begin at 7 PM and end at 9 PM, with the scheduled activity beginning at 7 PM, to conclude with our feature film at 7:30 PM. Feel free to bring folding chairs, blankets and/or your very own picnic basket of goodies. If not, blankets are available for rental for $5. Food and beverages are available for an affordable price, brought to you by Kiwanis International and The City of Sunny Isles Beach. And don't forget the Ice Cream truck, Kona Ice, which will also be on site. Parking in designated areas is free! For more information, please call The Cultural and Human Services Department at 305-792-1706.