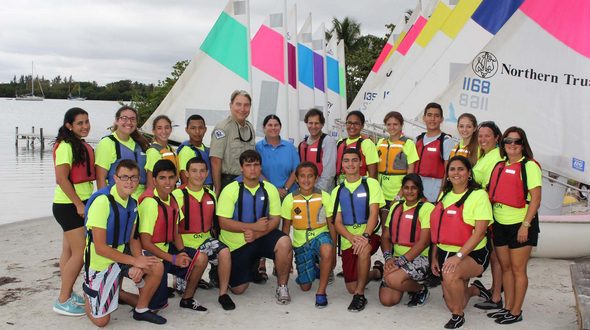 The joyful, elated sentiments expressed by disabled students learning to sail and set a course for success in the marine industry made the united efforts of a dedicated crew of supporters even more rewarding as the Aventura Marketing Council's Anchors Away Foundation, in partnership with Miami-Dade County Public Schools, "sail-ebrated" its tenth anniversary at Oleta River State Park.
Aventura Commissioner Billy Joel has served as Anchors Away Chair since the Foundation's inception. He was joined by Project Director Leslie Loewenthal and Aventura Marketing Council Chair Cliff Schulman of Weiss, Serota, Helfman, also on the Foundation's Board.
Business and community leaders were on board for the inspirational event along with student sailors and their families, volunteer mentors and M-DCPS leaders.
Guest speaker Enid Weisman, Chief Human Capital Officer for Human Capital Management at Miami-Dade County Public Schools, noted nationally-recognized M-DCPS Superintendent Alberto Carvalho has participated in all Anchors Away Foundation launches, "fully supporting this amazing program." Also participating in the ceremony was School Board Vice Chairman Dr. Larry Feldman and School Board Members Dr. Tee Holloway and Dr. Martin Karp. On behalf of Supt. Carvalho who had to travel to Washington, DC that day, four individuals were presented with a Miami-Dade School Board medallion: Comm. Joel, Cliff Schulman, Elaine Adler and the Anchors Away 'senior sailor', Kathryn Guevera. Also joining in the festivities were Florida State Sen. Gwen Margolis, North Miami Beach Mayor George Vallejo and Councilwoman Phyllis Smith, Aventura Vice Mayor Howard Weinberg and The Hon. Bob Diamond; The Hon. Gerry Goodman from Sunny Isles Beach; Hallandale Beach Vice Mayor Alex Lewy and Oleta River Park Manager Barry Stevens.
Gloria and Herb Barker of Barker Animation Art Gallery donated a $2,500 piece of artwork, titled "Anchors Aweigh" to be auctioned off, featuring Gene Kelley and two Hanna-Barbera characters.
Sharing how the Anchors Away voyage embarked, Comm. Joel explained, "Dr. Jayne Greenberg, District Director of Physical Education and Health Literacy for Miami-Dade County Public Schools, approached long-time friends at the Aventura Marketing Council to share her excitement about a new Marine Academy. Dr. Greenberg's dream was to teach disabled students how to sail on their own while learning science, math and life skills. Far exceeding the wish to have one specially-equipped access dinghy for children facing tremendous challenges in their lives, ourAnchorsAway fleet now has 37 special-access sailboats thanks to many generous benefactors. Built inAustralia, the boats are designed not to tip over and have a hands-free navigating system enabling these children who don't have use of their arms or other limbs to have an amazing experience. And we have to thank David Diamond and all the teachers and student mentors who ensure a successful sailing each and every time!"
"I like going out on the boat…It makes me happy, it's exciting and I get to do it by myself and have fun!"
To date, the Anchors Away Foundation has "sail-ebrated" five launches to inaugurate newly-sponsored boats. Grants have also helped purchase beach access wheelchairs and motorized equipment, as the boats are continuously used by students enjoying over 2,500 sailing excursions each year embarking from participating sites including Oleta River State Park, Coconut Grove Sailing Club, Miami Yacht Club and soon, Biscayne National Park.
"When I'm sailing, I feel like a confident, independent superstar!"
Over the past ten years, the AnchorsAway Foundation has gained international notoriety for helping students not only learn how to sail on their own, but experience freedom on the water that they may not have on land, expand their horizons, increase self-confidence, socialization and life skills. Foundation initiatives were recently featured in the Miami Herald as well as many other media outlets including US News, WN World News, PressGrab, New Zealand Star, PureSail.com and YouTube.
For more information about becoming an Anchors Away Foundation sponsor, contact the Aventura Marketing Council at 305- 932-5334.