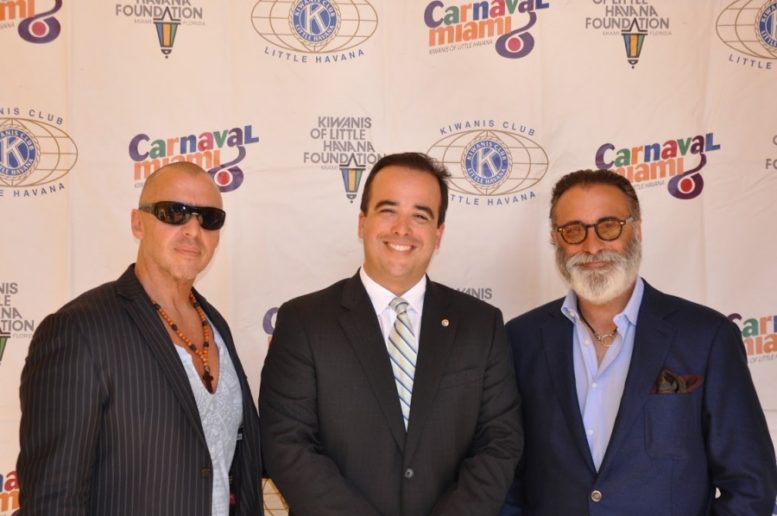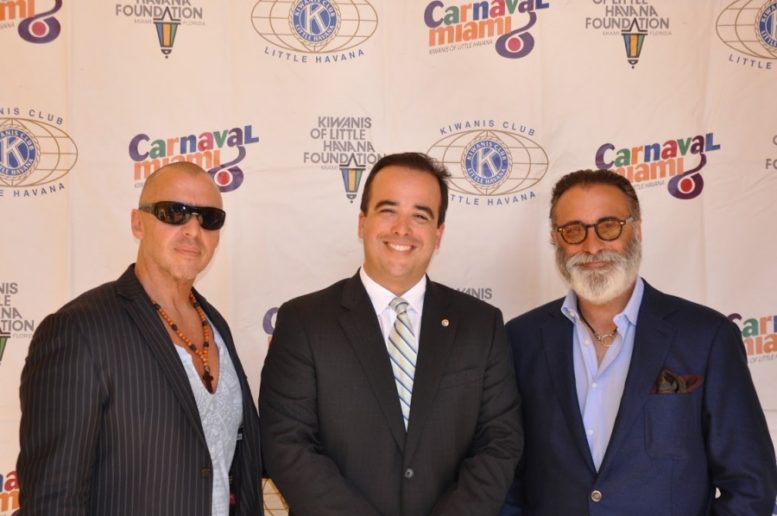 The Kiwanis Club of Little Havana has announced Andy Garcia as the official King of Carnaval Miami 2016.
As part of the 2016 festivities, the Cuban-American Oscar, Golden Globe and Emmy-nominated actor, filmmaker and multiple Grammy Award-wining music producer/musician will perform on the Kiwanis Club of Little Havana's 40th Anniversary Stage (SW Eighth Street and 12th Avenue) during the 39th Annual Calle Ocho Festival (El Festival de la Calle Ocho) on Sunday, Mar. 13.
Garcia will perform along with his own CineSon All Stars, which includes former band members of legendary Cuban bassist Israel Lopez "Cachao", whom Garcia produced and collaborated with on their multiple Grammy Award-wining albums.
"We are excited to announce Andy Garcia as the King of Carnaval Miami 2016 and are honored to have him perform on the club's 40th Anniversary Stage during the 39th Annual Calle Ocho Festival," said Jerry Fernandez, president of the Kiwanis Club of Little Havana. "Carnaval Miami is about celebrating South Florida and our heritage so we are proud to have a Miami native and true cultural icon as this year's King of Carnaval Miami."
Cuban-born Garcia arrived in Miami at age 5 and attended Miami Beach Senior High School. While attending Florida International University, Garcia studied acting and performed in regional theater until he departed for Hollywood. Garcia's breakout role came as Agent George Stone in the Untouchables (1987) and in 1990 he starred as Vincent Mancini in The Godfather: Part III. Along with a variety of television and movie roles, Garcia starred in the acclaimed Ocean's Eleven, Ocean's Twelve and Ocean's Thirteen series, and will be featured in the highly anticipated, upcoming Ghostbusters film, as well as the new season of Ballers (HBO), True Memoirs of an International Assassin (Netflix), and Geostorm (Warner Brothers).
Garcia also is in development of a film titled Hemingway & Fuentes based on the relationship between Ernest Hemingway and Gregorio Fuentes.
Along with his love for acting, Garcia has a longstanding appreciation for music and has honored Cuban bassist Israel Lopez "Cachao," including his 1993 documentary Cachao…Como Su Ritmo No Hay Dos. The bongo and piano-playing Garcia has led the CineSon All Stars for a number of performances and has also hinted at recording an album of original songs with the legendary Cuban group.
Along with honoring Cachao, Garcia has announced he would like to spearhead a movie about Afro-Cuban conga player Chan Pozo, who collaborated with Dizzy Gillespie to pioneer some of the most iconic music in Latin Jazz history.
"It's an honor for me to be chosen by the Kiwanis Club of Little Havana as the King of Carnaval Miami 2016," Garcia said. "Music has inspired me throughout my career and I am excited to come back to my roots and perform at the legendary Calle Ocho Festival."
Sponsors of the 2016 Carnaval Miami festivities include:  AT&T, Coca-Cola, BMW, Bacardi, Heineken, BB&T, Colgate-Palmolive Company, Palm Bay International, Whole Foods, Winn-Dixie, Diet Coke, Florida Community Bank and Banfield Pet Hospital. Sponsorship opportunities are still available for the 39th Annual Calle Ocho Festival. For additional information,  contact Teresa Callava at <tcallava@kiwanislittlehavana.org>.
For more information about Carnaval Miami and upcoming events, visit <www.carnavalmiami.com> or call 305-644-8888.