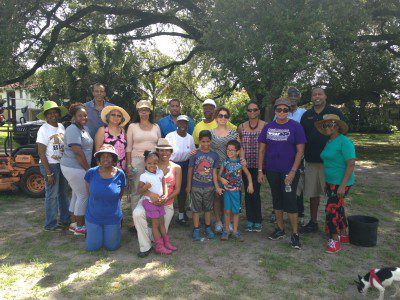 A Community Garden is a place to grow food, flowers and herbs in the company of friends and neighbors. Community gardens beautify neighborhoods and have been proven as an invaluable tool in helping to reduce neighborhood crime. They provide a safe, recreational green space in urban areas and contribute greatly to keeping air clean. Gardening is a relaxing way to exercise and enjoy being outdoors.
With a grant from the Florida Department of Elder Affairs, the City of Miami Gardens' own Elderly Affairs Committee
with the assistance of volunteers created their own slice of heaven – their garden is located is at 18330 NW 12th Avenue. This beautiful garden is filled with exotic fruits and vegetables, including: Jaboticaba, Jack Fruit, Pomegrate, Barbados Cherries and Lemon Grass.
For more information and to become involved in the Miami Gardens Community Garden contact Councilman David Williams at 305-622-8000 Ext, 2793.
Benefits of being involved in a Grow Community Gardens.
• Improves the health, wellbeing and quality of life
• Connects people to their community
• Provides a catalyst for neighborhood and community development
• Stimulates Social Interaction
• Encourages Self-Reliance
• Beautifies Neighborhoods
• Produces Nutritious foods
• Reduces Family Food budgets
• Creates opportunity for recreation, exercise, therapy and health
• Preserves Green Space • Food Production
• Provides opportunities for intergenerational and cross-cultural Connection