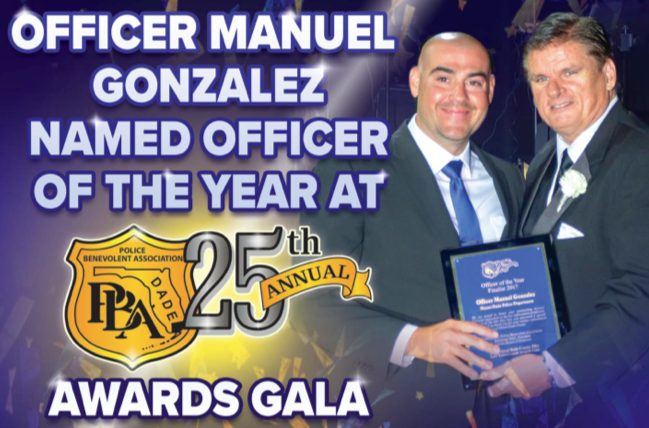 I am sure by now everyone has heard about the PBA's successful and record-setting 25th Annual Dade County PBA Law Enforcement Awards Gala, with well over 800 guests in attendance. Many enjoyed honoring our award recipients and those family members whose loved ones made the ultimate sacrifice and we thank them for being in attendance. I don't have to tell you that this year was the who's who of state and local government leaders, members of the judiciary and anyone seeking or even thinking about running for office. Also in attendance were many local police agencies with their command staff, the brave men and women of Miami-Dade and surrounding counties, who protect our communities and streets, with their many friends and families.
The 25th Annual Dade County PBA Law Enforcement Awards Gala was held on Saturday, May 19, 2018, at the Trump National Doral Miami. The start of the evening began with the honoring our Nation with a multi-agency honor guard led by our very own PBA Board of Director Marcos DeRosa. A beautiful rendition of the National Anthem was rendered by 14 year-old singing sensation, Miss Joana Martinez, who is the daughter of former Miami-Dade Police Lieutenant and current Board of Miami-Dade County Commissioner, Joe Martinez. Joana, you were awesome and a talent to be heard for years to come. Once again, our guests were amazed at the realistic re-enactments brought to life on screen and produced by the MDPD Video Services Unit's staff which includes our very own PBA members Diana Diez, John Tormey and Lizeth Barrial Carrera. We thank you for another year of a job well done. If we could give you an Oscar award we would.
The climax of the evening is the presentation of the awards. This year's 2017 awards were presented for: Officer of the Year, Correctional Officer of the Year, Arthur E. Felton Investigative Excellence Award, Citizen of the Year, Presidential Award and the Fred Maas Outstanding Law Enforcement Leadership Award. There were many highlights during the night's events, but one of the memorable moments was the presentation of the Citizen of the Year Award, during which the recipient, Christopher Cummings, gave an emotional speech and was reunited with the MDPD Officer he pulled out of that vehicle wreck, Jarvys Duran.
We at the PBA want to say thank you all for coming out and supporting local law enforcement and raising money for the Love Fund, which assists families of officers killed or injured in the line of duty during times of need.
2017 Police Officer of the Year MIAMI-DADE POLICE OFFICER MANUEL GONZALEZ
On December 6, 2017, Miami-Dade Police Officer Manual Gonzalez was working an off-duty detail at the Walmart located at 3200 NW 79th Street. Gonzalez was informed by a Walmart employee of a subject attempting to remove items from the store.
Gonzalez made contact with that subject and during the confrontation the subject discharged his firearm striking Gonzalez in the left thigh. Gonzalez returned fire and a gunfight ensued which resulted in both Gonzalez and the subject sustaining multiple gunshot wounds.
After ensuring there were no other subjects on the scene, Gonzalez advised that he had been shot and requested emergency back-up via his handheld radio. As Gonzalez checked his injuries he was able to ascertain that a copious amount of blood was draining from his gunshot exit wounds.
Gonzalez's courageous actions were responsible for the defeat of the subject. His tactical training and heroic actions allowed him to survive and guarantee that no civilians were injured.
A search of the subject's history revealed that he was a violent career criminal who had been incarcerated for over 21 years for 2nd Degree Murder, Carrying Concealed Firearm, Battery on Law Enforcement Officer and various Narcotics offenses. He had recently been released from prison.