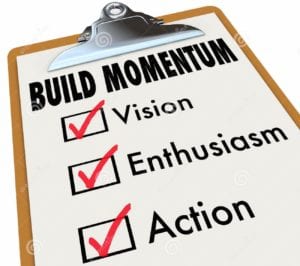 This month, we celebrate 13 years and I hope 2018 will be a year in which we are willing to do the work, to ask the hard questions, to make the brave decisions, and to work together to continue building momentum in our City. I say it often because it's true, 'We are only as good as our weakest link and we cannot afford to leave anyone behind.' We are one, and together we can make a difference. #OneWestPark
We must build on our momentum!  We have been getting some positive attention.  Many of which is possible due to the hard work of City Staff.  Proudly, we're making a name for ourselves as a city that others look to emulate.
I'm especially encouraged by the progress we're making to become more economically efficient. We are working together now more than ever to strengthen our economic base.  The heart of our city is seeing unprecedented growth.  Positive progress continues to be made.  In the next few months, we will witness our proposed TOC (Transit Oriented Corridor) process move further toward fruition. The work this will do will enable us to keep our city strong, vibrant and keeping in pace with other surrounding cities.
We want our residents to be confident in us as responsible community servants, who deliver both outstanding customer service to residents, while remaining financially sustainable and efficient. Within these larger goals there are a number of key things we want to achieve. We want to do better when it comes to involving you on major changes in the city before we make final decisions. We need you! I encourage all of you to get involved!  We're a stronger and better community when we come together to solve problems, celebrate successes, and make a difference. Stay connected with us by liking our Facebook page and signing up to get emails and/or text alerts from the city. More importantly come to your Commission meetings on the 1st and 3rd Wednesdays at 7:00 pm!
To be a great city, it's critical that in West Park we work each day to be the safest city possible.  And, we're doing just that by the teamwork and dedication that's being displayed by Broward Sheriff's Office Police & Fire personnel.  I have the utmost confidence in them and thank them for the outstanding work they're doing every day!
To be a city where people want to live and businesses want to grow we listened and cared as we heard repeated concerns.  And, we had the privilege of putting in place a Planning and Zoning Board, providing small business grants, beautification projects like the SW 40th Avenue improvement, and implementing a Citizens Academy program.  We want to continue to be socially cohesive and inclusive and make sure no section of the city is left behind as we grow. We want our citizens to live in a Progressive City – one that is affordable and sustainable.
We need to continue to think big as we collaborate to make our city a true legacy for our youth.  Speaking of legacy, it takes strong leadership to create one.  Providing a daily, full service senior citizen program, summer camps, youth sports activities, Police Explorers, Youth Advisory Council and scholarships for our youth, all demonstrate that we're building on our momentum and moving in the right direction. These are great resources and community assets that are having a positive impact on the lives of adults and children alike now and for future generations.
Being a city on the move also requires fiscal discipline. Through efficient leadership and a bipartisan approach to achieving results, our city's finances will grow strong.  Balanced budgets, keeping taxes affordable, and a commitment to providing excellent city services sets us apart from the rest.  By working together, we will have a sound financial plan for the future to meet the needs of the community. 
Our world-class parks system also makes us unique.  It's another reason why our quality of life continues to impress everyone.  We work together with our neighborhoods to build strong community assets.  How we will work together to improve and increase the amenities we offer also speaks volumes about West Park as a community.
We're fortunate to live in a community that values our freedom.  We hold the Veterans of Foreign Wars (VFW) Post 8195 close to our hearts and feel immense gratitude for all the services they provide to our veterans and our city at large.
We have an obligation to those who are less fortunate, quite often through no fault of their own.  By providing fresh produce giveaways monthly we are doing just that.  Collectively, we can make West Park an even better place to call home for everyone. 
I love this city. I believe in West Park, and I know you do, too. The vision, excitement, and momentum are in place.  Join me as we continue to build on the momentum we're experiencing in our wonderful city.  Now is not the time to stop and be passed by.  We must continue to move forward; always thinking and planning for a better tomorrow.
I'm reminded of the words of arguably the greatest anthropologist of all time, Margaret Mead, when she said, 'Never doubt that a small group of thoughtful, committed citizens can change the world; indeed it's the only thing that ever has.'   We might not be able to change the entire world but we can improve, and change for the better, the piece of the world that sits within the City of West Park and I look forward to playing my part, with your support, in doing so as we strive for greatness, together to make a meaningful difference. Building momentum: Welcome to the movement!   
Remember to contact me at City Hall with your ideas, suggestions or concerns.  I represent you and appreciate your input into the continued success of our beloved city.  I can be reached at (954)329-8990 or email fbrunson@cityofwestpark.org.