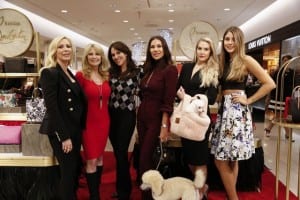 What an amazing night was had by all at yesterday's "Walk in Style for the Animals" event at Saks Fifth Avenue, Bal Harbour, where "giving" is definitely in season.
Fashionistas and animal lovers alike visited Saks Fifth Avenue, Bal Harbour to celebrate the exciting launch of Christian Louboutin's Spring/Summer 2016 Handbag Collection. Guests enjoyed an evening of fun and shopping to help support the dogs and cats of the Humane Society of Greater Miami and the 2016 Walk for the Animals. With the help of special hostesses Angela Birdman, Andreea Baclea, Paulina Claure, Jillian Posner and Amy Zakarin, and the great PR efforts of Zakarin-Martinez and The Dana Agency, the event was a huge success. Total monies raised from this event will help the "Wolf Pack" team, led by Team Captain – Paulina Claure, Angela Birdman, raise money for the Walk for the Animals, the Humane Society's largest community fundraising event.
This fabulous event brought more than 150 people and their dogs to Saks Fifth Avenue, Bal Harbour to view the latest additions to the World of Louboutin. Guests enjoyed delectable hors d'oeuvres, champagne and cocktails and live music by DJ Sepidah Amiri. Many people entered the exciting raffle for a chance to win a $1,000 Christian Louboutin shopping spree donated by Saks Fifth Avenue, Bal Harbour, to benefit the Humane Society. As shoppers browsed the marvelous collection and made their way around the store, they were able to view a wonderful slideshow that showcased many of the adoptable animals from the shelter. Shoppers who made a purchase during the event also received a "Doggie Bag."
As the "Walk in Style for the Animals" event carried on throughout the evening, Saks Fifth Avenue, Bal Harbour's Vice President & General Manager, Deborah Slack, the amazing Marketing Team, Nancy Di Bernardo and Nanette Crego, Fifth Avenue Club Manager, Danielle Klein, Catherine Kitty Ibarra, and her amazing team kept the crowd in high spirits. The event was a great success, raising more than $7,000, and the perfect kick-off party for the fun and exciting fundraising event, Walk for the Animals.
The Humane Society of Greater Miami is a limited admit, adoption guarantee facility dedicated to placing every dog and cat in our care into a loving home, and to promoting responsible pet ownership and spay/neuter programs. Adoption guarantee means that every animal that is admitted to our shelter is free from the threat of euthanasia for time, space, or treatable medical issues.