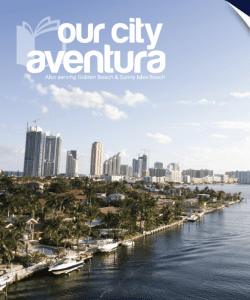 Our City Aventura is the area's latest local magazine. Each month issues will be mailed to 20,000 homes in Aventura, Highland Oaks, Highland Lakes, Golden Beach and Sunny Isles Beach. The glossy full color publication will feature exclusive local community specific news. The emphasis will be on events that the entire family can enjoy, charitable organizations and causes, school news, the arts, neighborhood stories and outstanding citizens, including students, teachers and seniors.
Other popular components are the "Community Event Calendar", "Pet of the Month", "World's Favorite Newspaper" and "Seen on Scene" columns. These sections bring attention to the neighborhood's events, the four-legged friends, the world-class travelers who take a copy of the latest issue along with them on their journey, and those who attend networking luncheons, charitable functions, events and more.
Of course, business stories will also be featured along with special guest columns by experts in their fields. The intention is also to provide informational messages from the Mayor, the Police Chief and the Fire Chief as well. Overall, the publication wants to exhibit "the best of the best" within the community.
Being the first of Our City Media Group's Miami-Dade magazines, the goal is the same as it is for its Broward counterparts. Each issue will be informative and resourceful to the readers while giving exposure to much-needed causes. The publication will also bring a light-hearted approach to reporting, highlighting stories that escape the main stream media, while inspiring others to get involved in the community in which they live.
"I'm constantly searching for great stories and photos to share with our readers. Primarily those that showcase exceptional individuals, regardless of age, who do good in the community," says Beverly Perkins, Managing Editor of Our City Aventura and Our City Hollywood. "It feels good to highlight those people, organizations and educational institutions that usually do not get the recognition they deserve."
Please email EditorAventura@OurCityMedia.com to submit calendar entries, story ideas, photos or other inquiries. For more information or to advertise, please visit www.OurCityMedia.com.