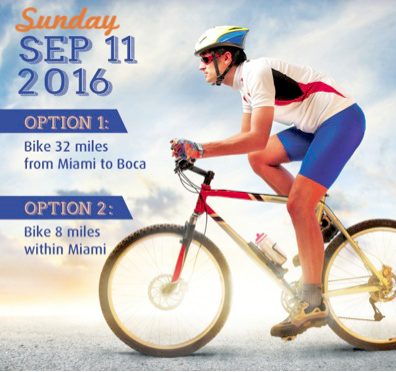 On Sunday, September 11, 2016 South Florida will make a move by raising awareness for senior citizens. The Grandparents Day Bike-a-thon is the first of its kind, celebrating and honoring the elderly. The event is hosted by United Jewish Generations, a non-profit organization with provides services and programming for senior citizens.
The Grandparents Day Bike-a-thon is an opportunity to show respect and gratitude to those that have paved the way. "I encourage everyone to choose a senior they wish to honor and ride in the Grandparents Day Bike-a-thon," says Rabbi Smith, director of United Jewish Generations. "Let's change the way the general public views seniors by giving them the honor they deserve." Seniors will receive a certificate stating that someone rode in their honor. Bikers can choose to ride 8 miles within Miami or join the 32 mile tri-county ride to Boca. Even people who can't ride, can be there in spirit as a virtual biker. The event begins at 7:00 AM at Greynolds Park and the bikers will be accompanied by a police escort. For more information or to register, visit: www.GrandparentsDayBikeathon.org
United Jewish Generations brings happiness, enjoyment and inspiration to senior citizens through various services and events. UJG promotes Jewish pride, practice and values by offering educational lectures and experiences of our heritage. Under the auspices of Chabad, UJG serves as an oasis of strength, hope, and purpose.
Corporate sponsorships are also available. Current corporate sponsors are: City Bikes, Hampton Court, South Florida Kosher Market and SilverOak Home Health Care.