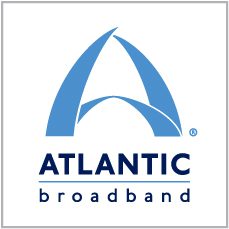 Atlantic Broadband, the nation's ninth largest cable operator, recently announced that it has been named the exclusive provider of advanced TV and Internet services for Echo Brickell, a new luxury condominium development on Brickell Avenue in downtown Miami, managed by technology innovator PMG and negotiated by the nation's leading broadband consulting firm, Converged Services Inc. (CSI).
As part of Echo Brickell's association fees for residents, Atlantic Broadband will provide symmetrical Gigabit (Gb) Internet, plus a two-room TiVo Service offering per unit. Atlantic Broadband is delivering a redundant fiber-to-the-unit network that will ensure that all Echo Brickell residents will have Internet services that match the building's luxury status both today and well into the future. This high-speed performance will enable residents to download a two hour HD movie (4 GB) in 32 seconds, and to work from their condos with an Internet connection that is faster than those found today in most offices.
"We are thrilled to have this unique partnership with Atlantic Broadband and PMG," said Leo Delgado, president of CSI. "As a technology innovator, CSI is proud to work with Atlantic Broadband to provide Echo Brickell residents with the fastest Internet and superior TV entertainment offerings, allowing us to lead the innovation in cutting-edge Miami construction. To our knowledge, this is the first luxury condominium to offer 1 Gigabit of service to each unit in Florida."
Echo Brickell strives for the extraordinary, from a groundbreaking conceptual design to a state-of-the-art pool and fitness center suspended above Biscayne Bay and downtown Miami. In addition to high-end TV and Internet services from Atlantic Broadband, Echo Brickell residents will enjoy exceptional concierge services, resort-style poolside food and beverage services, and a world-class health club and spa. 
"Atlantic Broadband is proud to be the exclusive TV and Internet provider for this exciting new residency, and to demonstrate our continuous commitment to deliver the next generation of offerings," said David J. Keefe, senior vice president and general manager, Southern Division for Atlantic Broadband. "Echo Brickell is a one-of-a-kind luxury building, and we're excited to deploy the fastest and best technologies for its residents with our symmetrical Gigabit service."
Echo Brickell is designed by Carlos Ott and yoo Studios and managed by Converged Services Inc. (CSI). This condominium building is scheduled to be completed by the end of 2017.
For more information, visit www.echobrickell.com.