After its successful American debut last year, Germany's long-running techno staple Time Warp returns for its second indoor festival in New York City in November, this time taking over the historic Bedford Armory in Brooklyn on November 20-11 from 10pm through until 6am.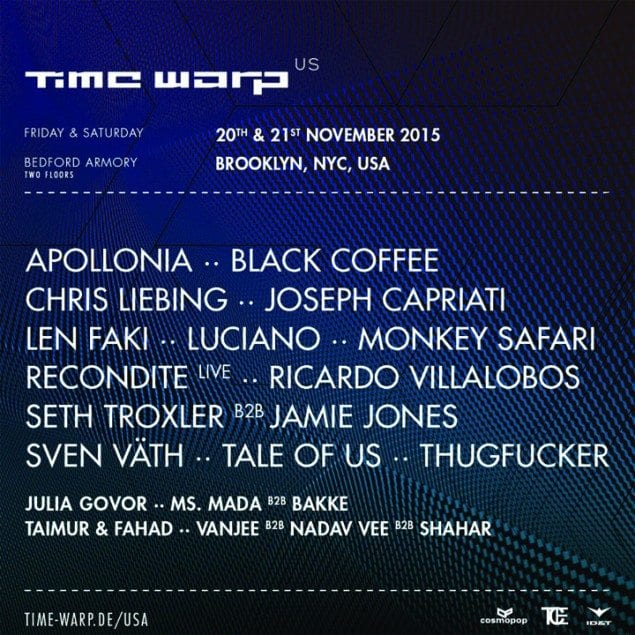 Phase two of the lineup sees Time Warp godfather Sven Väth, Black Coffee, Tale of Us, Apollonia, Len Faki, Thugfucker, Recondite (live) and Monkey Safari join Jamie Jones and Seth Troxler (b2b), Ricardo Villalobos, Luciano, Joseph Capriati and Chris Liebing for a massive weekend of pioneering techno and lavish production that celebrates NYC's storied history as a world-class dance music scene.
Aside from repping a lineup stacked with scene legends and rising selectors Time Warp US is to be held in a historic arms storage building in Brooklyn decked out with the festival's famously elaborate production, making this one of the most anticipated parties of the year.
"We were really motivated to find a location for that we could potentially stay in for the next years," said Robin Ebinger of Time Warp organizers Cosmopop. "We are really happy that we say that now. With our local partners TCE and ID&T we've built a strong team to present the best possible Time Warp experience in the US."
Longstanding Time Warp staple and dance music figurehead Sven Väth will return to NYC once more, and he's going to be joined by Italian favorites Tale of Us, South African soul house slinger Black Coffee, and Berlin's Len Faki. We're also delighted to announce that Hot Creations don Jamie Jones and Detroit puritan Seth Troxler will be dishing it out for four hours in their east coast b2b debut at this year's Time Warp.
"Our mission is to make people dance," said Time Warp founder Steffen Charles, "and we're delighted to do that again in New York."
Last year's Thanksgiving weekend party saw scene heavyweights Richie Hawtin, Sven Väth, Dixon, Joseph Capriati, Luciano joined by local east coast fixtures The Martinez Brothers, DJ Tennis, Josh Wink, for a weekend of searing techno at the 39th Street Pier.
This year's Time Warp US sees founder Steffen Charles and his team bring the festival to the 108 year-old Bedford Armory in Brooklyn. The two floor, 138,000 sq. ft castle is the perfect venue for what techno legend and Time Warp staple Sven Väth dubbed "the best indoor event on this planet". The organizers will be refitting the historic space with their infamous Cave 2.0 production, which will be shipped directly from Germany and will see the venue's innards transformed into an icy subterranean cavern.
Over the years the global event has become well-known as the meeting place between a festival and warehouse party, and Time Warp has built its reputation by fusing dark, dancefloor-aligned techno with visceral custom stage production and lighting.Built by artist collectives, technicians and interdisciplinary creatives from all overthe world, the "Signature Floors" such as the Cave 1.0 and 2.0 are large-scale installations which transport visitors through various optical worlds. The space transforms from a cavernous ice cave to a menacing inferno depending on the colors and rhythms of more than 400 lamps and lasers.
For more info visit: www.time-warp.de/usa Follow Time Warp on social media for news & lineup announcements: