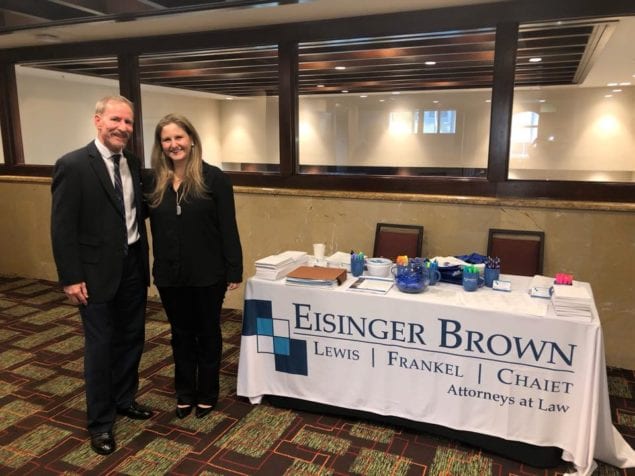 Eisinger, Brown, Lewis, Frankel & Chaiet, P.A. and Juda Eskew & Associates, P.A. are hosting a free Condominium and Homeowner Board Certification Course on Tuesday, October 30 from 5:30 – 7: 30 p.m. at the Courtyard Miami Aventura Mall hotel located at 2825 NE 191 Street, Aventura, FL 33180.
Condominium association board members, as well as property managers, are invited to attend the educational program which is the perfect introduction for all new board members and a great review for anyone currently serving on a board.
The DBPR-approved Board Certification Course will review recent legislative changes affecting condominium and homeowner associations, explain the role of fiduciary duties and guide board members through the applicable statutes governing community associations in Florida. This course fulfills community association board member State certification requirements (Sections 718.112(2)(d)(4) and 720.3033(1)).
The informative and entertaining class will be led by managing partner, Dennis J. Eisinger, an Adjunct Law Professor at the University of Florida who has more than 30 years of legal experience and partner Alessandra Stivelman who has more than nine years of legal experience and focuses her practice on real estate law and community association law.
The two experienced attorneys will offer topical examples regarding community association living and discuss "real world" issues board members frequently encounter, such as the difference between service animals vs. emotional support animals and what constitutes a material alternation.
Juda Eskew & Associates, P.A. will provide a financial update and share best practices for managing association funds.
Attendees will have ample opportunities to interact with the instructors and ask questions during the educational two-hour class. Complimentary Halloween-themed refreshments will be served. Advanced registration is requested, please email jgrace@eisingerlaw.com or call 954-894-8000 x 241 to RSVP.
Visit eisingerlaw.com.