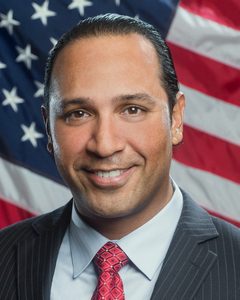 Homestead Councilmember Elvis Maldonado was selected as chair of the 2019-20 Florida League of Cities Legislative Policy Committee on Transportation & Intergovernmental Relations.
This committee addresses municipal concerns relating to transportation and highway safety, as well as aviation, affordable housing, billboards, building codes, charter schools, rights-of-way and veterans affairs.
"As an elected official, it's my duty to represent the interests of Homestead and its residents to the best of my ability," Councilmember Maldonado said. "This appointment to lead a policy committee for one of the most influential organizations in Florida will allow me to bring Homestead's concerns and priorities to the forefront during the next legislative session."
Each year, municipal officials from across the state volunteer to serve on the League's five legislative policy committees.
Appointments are typically a one-year commitment and involve developing the League's Legislative Action Agenda detailing priority issues that are most likely to affect daily municipal governance and local decision making during the upcoming legislative session. Policy committee members also help League staff understand the real-world implications of proposed legislation and are asked to serve as advocates throughout the legislative process.
Founded in 1922, the Florida League of Cities is the united voice for Florida's municipal governments. Its goals are to promote local self-government and serve the needs of Florida's cities. Florida's cities are formed by their citizens and governed by their citizens. The League is founded on the belief that local self-government is the keystone of American democracy.
For more information, visit www.floridaleagueofcities.com.