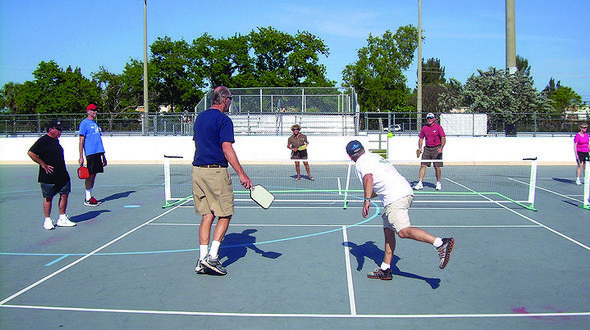 A relatively new sport of special interest to seniors has made its way to South Florida and will be part of Cutler Bay's Senior Games in March. A Pickleball Demo/Clinic will take place on Saturday, Feb, 22, 8-10:30 a.m., on the multipurpose tennis courts at Saga Bay Park.
A combination of three sports (tennis, ping pong and badminton), Pickleball is described as "the fastest growing adult sport in the country today" with more than 250,000 members so far and more each week.
Mitchell Ball, who lives in the Hallandale/Hollywood area, is bringing the sport to Greater Miami for the first time. His enthusiasm for the game, already popular in other cities, led him to want to introduce it here.
"I was vacationing up in the Orlando area in December of 2012 and learned how to play Pickleball," Ball said. "When I asked the other players if there were courts to play Pickleball in South Florida, they said a resounding 'I do not think so.' It was my mission to bring Pickleball to South Florida. I became an ambassador with the USA Pickleball Association and I was on my way."
Ball just last year has set locations in Dania, Oakland Park, Davie, Fort Lauderdale, Hallandale, Hollywood, Tamarac, Deerfield Beach, Margate and Parkland. Now it's Miami Beach and Cutler Bay.
"I have taught many people the art of Pickleball," Ball said. "People call me 'Mister Pickleball.' I'm very excited to bring the sport to Metro Dade County. It is historic to finally bring it here. I also started the only Pickleball Club in South Florida with over 100 members. I give a free beginner clinic every week in Fort Lauderdale."
Pickleball began in 1965 when Joel Pritchard, a congressman from Washington State, and Bill Bell, a successful businessman, returned to Pritchard's home on Bainbridge Island, WA, to find their families sitting around with nothing to do. Using an old badminton court and net, some modified paddles and a perforated plastic ball, Pritchard and Bell created a game that has elements of tennis, ping-pong and badminton. The ball belonged to Pritchard's dog, Pickles, who grabbed it whenever it came his way, so they named the game Pickleball.
The sport spread across the country during the '70s and the first rulebook was published in March 1984. Arlen Paranto, a Boeing industrial engineer made the first composite paddle using the fiberglas/ nomex honeycomb panels that commercial airlines use for their floors.
"Pickleball is an extremely easy sport to learn," Ball said. "You can be playing a game in less than half an hour, and in a short time be an avid Pickleball player. If you can play tennis, badminton or ping pong then you can master Pickleball."
Ball said that seniors love the sport too and that in the USA alone over 250,000 seniors and others are coming to learn and play Pickleball. It creates less stress on the body compared to tennis and has a smaller court with less running.
Pickleball Senior Games will take place on Mar. 18, with Pickleball singles and doubles at 9:30 a.m. at Saga Bay Park in Cutler Bay. For information on the Senior Games visit www.cutlerbay-fl.gov or call the Parks and Recreation Department at 305-238-4166.
For more info about the Pickleball Demo/Clinic call Mitchell Ball at 786- 259-4711 or send email to him at pickleballpromotions@ gmail.com.