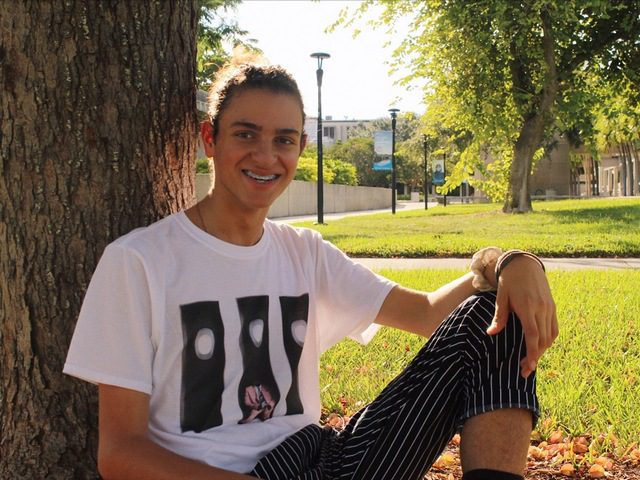 Doron Yablonka is a 16-year-old who is using his graphic design skills to start a business and spread the word about drug and alcohol abuse.
A former student of Design and Architecture Senior High (DASH), Yablonka recently switched to School for Advanced Studies (SAS) South to maximize and explore the benefits that the school offered.
"At the age of 13 I took on the task of teaching myself graphic design, and I am so glad I've done so," he said. "It helped me meet plenty of interesting people, learn a surplus of cool things I could do with the skills I had, and more importantly it permitted me to be accepted to DASH." Inspired by the recent death of a favorite musician, Mac Miller, from a drug overdose, Yablonlka had the idea of making himself a shirt of his favorite album by Miller, and wear it for tribute.
"I thought that I might as well share it with others who had similar intentions but lack the technical skills," he said. "However, I had to make it clear that what I was of no malicious intention, and donating to charity was the first thing that came to mind. Not only do I get to do what I love, I also have the honor of getting to spread awareness of and actively lessen the influences of a very pervasive issue existing among today's youth — drug and alcohol abuse."
In light of this, he created ASIG Apparel devising a rough business plan and within a week published his website, www.asigapparel.com.
"However, it's important to note that without the help of two of my closest friends, Marcus Corugedo and Geovany Escorcia, this project would have been a lot more stressful."
Yablonka said the main premise of the brand is to spread awareness of drug misuse through social media, and directly help the issue by donating 60 percent of the profits to the Amy Winehouse Foundation. As a non-profit, the rest of the money goes towards keeping the brand on its feet. The social media address is @asigapparel on all platforms.