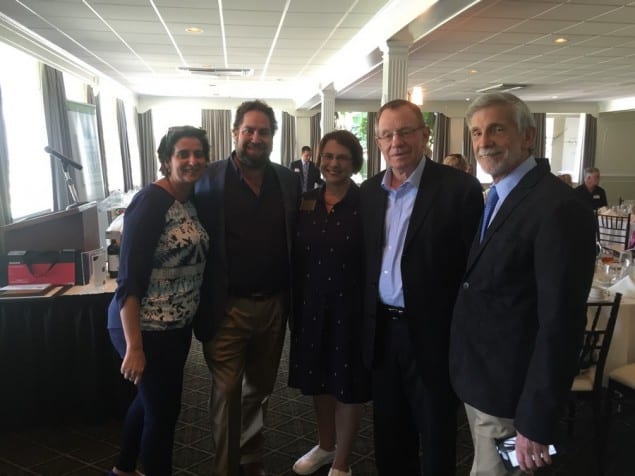 Professor Rafi Beyar, the CEO of the Rambam Healthcare Campus in Haifa , arrived from Israel to visit audiences in South Florida to help raise awareness and funds for the health care campus.
Rambam is Northern Israel's largest hospital and only provider of Level- 1 trauma medicine. Over two million people depend on Rambam for medical care and public health information.
Prof Beyar was the keynote speaker at the recent North Miami Chamber of Commerce. The event had close to 100 people in attendance. Rambam is nationaklly and internationally known as an exemplary teaching hospital and hub for patient oriented research and innovation.
Prof Beyar indicated that Rambam "is strategically important to Israel being located only 40 kilometers from the northern boarder.
Rambam serves as the referral hospital for the Israel Defense Forces Northern Command, the US Navy Sixth Fleet, and the UN Peacekeeping Forces posted in the region."
"Through our Middle East outreach program, Rambam treats sick children from neighboring Arab countries who receive medical treatment unavailable to them at home – all part of our humanitarian mission."
Prof Beyar noted that more than 800 health professionals from over 60 countries have trained at the Rambam Teaching Center for Trauma Emergency and Mass Casualty Situations.
During the war with Lebanon, Prof Beyar indicated that the hospital came under direct and repeated rocket attack. He vowed that he would never let this happen again and worked to create the Sammy Offer Fortified Underground Emergency Hospital at Rambam is the largest of its kind in the world. In peace time it serves as a 1500 parking garage. Within 48-72 hours in times of war it converts to a 2000 bed fully operational emergency hospital.
Prof Beyar concluded his comments by indicating that Rambam's "proximity to Northern Israel's high tech scientific industrial parks has enabled R&D partnerships that have contributed to the country's eminence in biomedical and life sciences."
For more information about Rambam or to volunteer to help with local programming, contact Marjie Aloni at 305-766-2976.