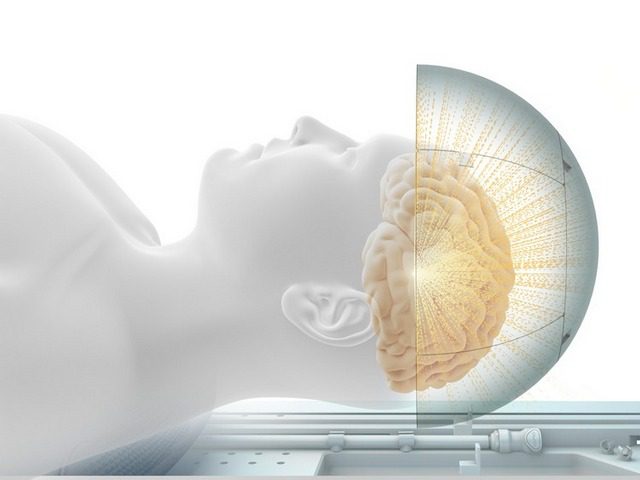 A multidisciplinary clinical team at Nicklaus Children's Hospital used magnetic-resonance guided focused ultrasound — a form of incisionless surgery — to ablate a centrally located brain tumor in a young patient experiencing tumor-associated seizures.
The first-of-its-kind procedure is part of an FDA-approved research study designed to demonstrate the safety and feasibility of focused ultrasound for the treatment of benign intracranial tumors in children and young adults between ages 8 and 22.
The procedure to target the benign hypothalamic hamartoma brain tumor, conducted in March, was performed using INSIGHTEC's Exablate Neuro system. The procedure is performed in a magnetic resonance imaging (MRI) suite and uses high-intensity focused ultrasound waves to precisely target and destroy the targeted tumor in the brain. MRI provides high-resolution visualization of the patient's anatomy as well as near real-time monitoring. This marriage of technology allows surgeons to precisely heat and destroy the target tumor, without impacting the scalp, skull or surrounding healthy brain tissue.
Following the procedure, high-resolution MRI scans of the patient, a 21-year-old student, show complete ablation of the tumor. The patient was able to return home the following day, resume classes and she remains seizure free. Patients undergoing standard brain surgery to remove similar tumors are typically hospitalized for several days, require sutures, and are at risk of bleeding and infections.
"Congratulations to the team at Nicklaus Children's for another first with our MR-guided focused ultrasound technology. We are committed to supporting research efforts such as these that push the boundaries of our technology to treat more and more patients," said Maurice R. Ferré MD, CEO and chair of INSIGHTEC.
Prasanna Jayakar, MD, PhD, chair of the Nicklaus Children's Brain Institute, said, "The Brain Institute is very honored to have been able to partner with INSIGHTEC to conduct a study of the safety of this novel methodology in children. Our program has an extensive multispecialty team, all dedicated to innovating the safest, least invasive methods to offer a better future for children with brain tumors and seizure-causing brain tissue. It is our hope that this contributes to knowledge that leads to enhanced treatment for children worldwide."
The medical and research team at Nicklaus Children's is led by Dr. John Ragheb, director Division of Neurosurgery; Dr. Travis Tierney, principal investigator; Dr. Ian Miller, director of Epilepsy Program; Dr. Sanjiv Bhatia, neurosurgeon; Dr. Nolan Altman, director of Radiology; Dr. Prasanna Jayakar, and Dr. Jennifer McCafferty, director of Research, Miami Children's Research Institute.
The study is funded by Nicklaus Children's Hospital, with support from the Focused Ultrasound Foundation.
For more information about Nicklaus Children's Hospital, visit www.nicklauschildrens.org.